Car rental Amboise
Find the best price for car hire in Amboise. Goautos.com compares prices from well-known car rental companies in Amboise. Search now to see the best deals!
Amboise guide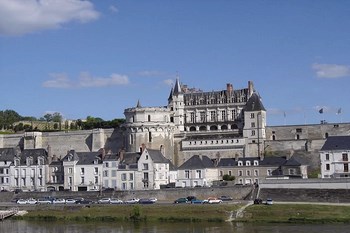 Amboise is a small town in central France, belonging to the French Ministry of Indre-et-Loire.Amboise is beautifully situated by the river Loire – between the towns of Tours and Blois. The city has about 10,000 inhabitants (2010).
Although Amboise today is no large and dominant city, it has a proud history. From the 1400s to the 1600s was the example city of residence of the French kings.
Otherwise, the city is primarily known for its large and beautiful castle – "Château d'Amboise." It was built in the 1000's, and is surrounded by a magnificent park. The castle is connected with the manor "Clos Lucé" via an underground corridor. Lived and worked Leonardo da Vinci as the French king's guest for the last three years of his life (1516-1519). He was buried in Saint Florentin church, which was located adjacent to the castle, but was destroyed during the French Revolution.
Other attractions include Amboise "Pagode de Chanteloup" –   1:44 m high Chinese pagoda (built in 1775), located just outside the city.It consists of 7 floors, each floor is slightly narrower than the preceding one. Otherwise, there is a special postal museum in Amboise – "La Musée de la Poste". If it moves 18 km outside the city center of Amboise, one can visit the imposing medieval castle "Château de Chenonceau" from around 1520.
Nearest international airport is Tours Val de Loire Airport, located 27 miles west of Amboise.