Car rental Baltimore
Find the best price for car hire in Baltimore. Goautos.com compares prices from well-known car rental companies in Baltimore. Search now to see the best deals!
Baltimore guide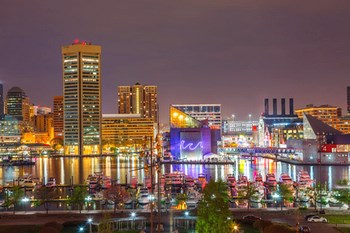 Baltimore is located in the northeast United States, and is the largest city in the state of Maryland.The town lies at the mouth of Chesapeake Bay – overlooking the Atlantic Ocean. Baltimore is one of the country's most important seaports and an important industrial and commercial center.
Baltimore was founded in 1729, and the port was developed in the 1800s – and was the second largest immigration port in the United States after New York.The city has 621,000 inhabitants (2011), while the metropolitan area has a population of nearly 2.8 million.
There are a number of popular tourist attractions in Baltimore – including the fortress Fort McHenry in 1776 – which is now a National Monument, Baltimore Cathedral from 1821, "Zion Church of the City of Baltimore" from 1807, the City Hall from 1867, Phoenix Shot Tower from 1828 ( 65.5 high) and Baltimore Art Museum – with exhibitions of paintings and sculptures.Why not try see works by Matisse, Picasso, Cezanne and Van Gogh.
Another popular tourist attraction in Baltimore's Walters Art Museum – a private collection of ca. 30,000 items – including jewelry, rare books, crafts, sculptures and porcelain.
The city is otherwise a maritime museum, a Jewish museum, a popular science museum ("Maryland Science Center") with interactive exhibits, a zoo and an aquarium – where you can also experience the dolphin show.
Baltimore / Washington Thurgood Marshall International Airport is located 16 miles south of downtown.