Car rental Bangkok
Find the best price for car hire in Bangkok. Goautos.com compares prices from well-known car rental companies in Bangkok. Search now to see the best deals!
Bangkok guide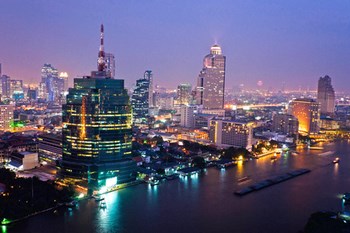 Bangkok is the capital of Thailand, and is situated on both banks of the Chao Phraya River – about 40 miles from where it empties into the Gulf of Thailand. The city has an official population of over 8 million (2010), but because of that there at any time sustain large numbers of unregistered jobseekers in the area, it is estimated that from time to time may be almost twice the number of people in Greater Bangkok.
Bangkok has been the capital of Thailand since 1782, and the first years of the city was called Bang Makok ("place of olive trees").The center was originally surrounded by walls and intersected by canals. These are for 2 World War have been filled in, as part of the modernization of the city. In return, Bangkok during the last decades become a city with huge traffic and pollution problems. Economic growth has been remarkable – and most of Thailand's industry is concentrated in and around the capital. Special industrial zones, where international corporations have invested and established itself created in the rural areas. Bangkok otherwise has evolved to become a financial center for this part of Southeast Asia.
There are a number of exciting attractions in Bangkok – including several great Buddhist temples and pagodas – and nearly 700 monasteries. The most famous single attraction is a palace complex in the oldest part of the city, including the Royal Palace and the Buddhist temple Wat Phra Kaew. This temple was built the same year the city was founded. Wat Pho, which is nearby, is famous for its 46 meter long statue of the reclining Buddha. On the other side of the river lies the magnificent Buddhist temple Wat Arun, which is as old as Wat Phra Kaew.
Among all the other sights of Bangkok's King Bhumibol photographic museum mentioned – as well as Thailand's most famous shopping street "backpackers" – Khao San Road.
The nearest airport is Bangkok Suvarnabhumi Airport, located 25 km east of the capital.