Car rental Bari
Find the best price for car hire in Bari. Goautos.com compares prices from well-known car rental companies in Bari. Search now to see the best deals!
Bari guide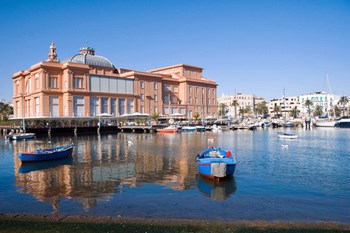 Bari is the capital of the region of Puglia and the largest of the Italian towns situated at the Adriatic coast. It has a population of 325,000 (2010) – and play as port and industrial city an important role in the economy of southern Italy. The port was heavily damaged during the 2 World War, but was quickly rebuilt. Today, the modern and functional, from car ferry to such  Dubrovnik.
Bari was founded by the Romans, who called a Barium – and a period in the early Middle Ages, the city was the capital of the Roman province of Italy (Which later gave its name to the whole country).
The city got its own university in 1924, and there are also several other colleges in and around the city. Bari also has its own archdiocese.
A popular tourist destination is the old town Città Vecchia with its narrow, labyrinthine streets and well-preserved medieval buildings. Here we find such the Romanesque Cathedral of San Sabio from the 1100s, the Basilica of San Nicola from the 1000's and an interesting Norman castle. Otherwise, a visit to the archaeological museum is highly recommended.
The modern town, Città Nuova, is characterized by straight, regular streets with several typical business district – and some industrial areas.
The nearest airport is Bari Airport, located 11 km northwest of the city.