Car rental Istanbul
Find the best price for car hire in Istanbul. Goautos.com compares prices from well-known car rental companies in Istanbul. Search now to see the best deals!
Istanbul guide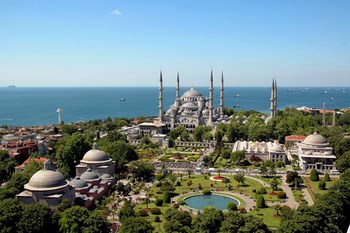 Istanbul is Turkey's largest city – with 13.5 million inhabitants (2011). The city is located on the Bosphorus – which separates Asia and Europe. Thurs suspension bridges over the Bosphorus connects the boroughs.
Istanbul is a very old city – which was founded ca. 660 f Kr. Istanbul is today Turkey's main port and largest industrial center. The city is also the country's most important financial, commercial and cultural center.
The historic and architectural interest attracts many tourists – and there are the magnificent palaces, monuments and mosques – in addition to the exotic culture and colorful bazaars.
Istanbul also has a number of art galleries, museums, theaters and opera – and the historic part listed as a UNESCO World Heritage Site.
Hagia Sofia is the largest and most impressive Byzantine monument in Istanbul. This was built in the 500's, and converted into a mosque in 1453.
Another important attraction in Istanbul's Topkapi Palace from 1462, set in a large park. Previously stayed in the sultan with his harem, but today the palace is converted into a museum.
Other attractions in the city include Irene Church from 300-century mosque "Little Hagia Sophia" from 536, the "Blue Mosque" (Sultan Ahmed Mosque) from 1616, Süleymaniye Mosque from the 1500s and Dolmabahce Palace from 1853.
"Grand Bazaar" also recommended a visit to Istanbul. This is a maze-like neighborhood with countless boutiques and outlets. In addition, you should pay a visit to the archaeological museum – a museum of Turkish and Islamic Art from 600's to 1900's.
Istanbul is otherwise a zoo, an aquarium and a botanical garden.
The city's main airport – Atatürk International Airport – located 25 miles southwest of downtown.