Car rental Limoges
Find the best price for car hire in Limoges. Goautos.com compares prices from well-known car rental companies in Limoges. Search now to see the best deals!
Limoges guide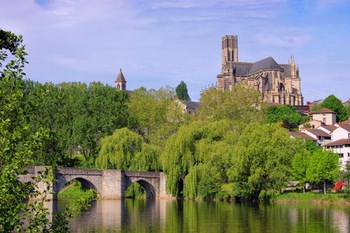 Limoges is the administrative center of the French Limousin region and the capital of the Haute-Vienne. The city is located in the western part of the Massif Central area, the River Vienne. The population of the city is about. 140 000 (2008), however, one takes the suburbs with rising population of around 180,000.
Limoges has since the 1700s been known for its porcelain industry. Also other industries has affected the city, which since the early Middle Ages also has been an important commercial and cultural center.
Among the attractions in Limoges, several beautiful medieval buildings include, among Saint-Étienne Cathedral from the 1200s and the Saint-Michel-des-Lions-church from the 1400s. The city's episcopal palace – a magnificent building in Baroque style from the 1700s – is now a museum. There are also museums of ceramics, porcelain and enamel of Limoges, where they can familiarize themselves with the city's most important business story.
Other popular attractions include the crypt of the saint St. Martial (900's) and the ruins of the ancient Roman amphitheater, chapel St-Aurélien (listed in the period 1300-1600's). Interesting ruins of 1100-century castle Chalucet can also visit about 10 kilometers outside the city.
The nearest airport is Limoges – Bellegarde Airport (Aéroport de Limoges – Bellegarde), approx. 6 km northwest of the city.