Car rental Memphis
Find the best price for car hire in Memphis. Goautos.com compares prices from well-known car rental companies in Memphis. Search now to see the best deals!
Memphis guide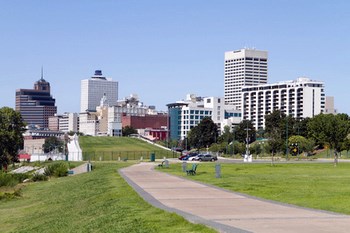 Memphis is located in the southwestern part of the U.S. state of Tennessee, on the Mississippi River. The city has about 680,000 inhabitants (2010) – but part of a larger metropolitan area which together have a population of 1.3 million.
Memphis is the largest city in Tennessee, and also an important river port. In addition, Memphis a central communications hub and a significant industrial. A number of higher education institutions are located here.
Memphis was founded in 1819 in connection with a fort that was built on the site in 1797. Eventually it was particularly cotton production and timber trade which formed the economic base.
In recent times the city has been important in the development of American popular music, particularly in the blues – but also when it comes to rock and roll. Both Elvis Presley, Jerry Lee Lewis and Carl Perkins has lived here. One of the biggest tourist attractions in the Memphis community, is Elvis Presley "Graceland". Hit pilgrimages Elvis fans from around the world.
Otherwise Memphis is also remembered as the city where the black civil rights leader Martin Luther King was assassinated in 1968. Lorraine Motel, which was the actual scene of the murder, was later converted to the "National Civil Rights Museum" – and today is a memory location that many tourists visit.
Memphis has also a number of other attractions to offer. Some of them are "Mamphis Walk of Fame," located in the "blues-street" Beale Street. It praised a number of blues history's great artists. Kunstmuseet "Memphis Brooks Museum of Art" is also well worth a visit. Here you can experience significant works of art from the Renaissance, Baroque and Impressionism. Also, the Children's Museum "Children's Museum of Memphis" to recommend.
The nearest airport is Memphis International Airport, which is located 5 miles south of downtown.