Car rental Milwaukee
Find the best price for car hire in Milwaukee. Goautos.com compares prices from well-known car rental companies in Milwaukee. Search now to see the best deals!
Milwaukee guide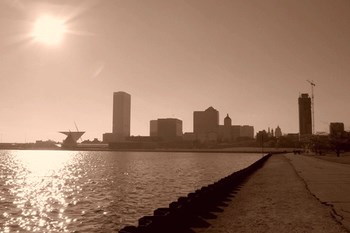 Milwaukee is on Lake Michigan, and is the largest city in the U.S. state of Wisconsin. The city is located 130 miles north of Chicago, and has 595,000 inhabitants (2011).If it is estimated metropolitan area population rises to 1.7 million.
Milwaukee is a major commercial, cultural and industrial center and an important railway junction. The city's university "Marquette University" was founded in 1881. In addition, Milwaukee a large port facilities.
The city is known to house two of America's largest breweries – "Miller" and "Pabst". Milwaukee has preserved its historical heritage and is a popular destination for tourists interested in architecture and cultural history.
Some of the city's best known tourist attractions include Basilica "St. Josaphat Basilica" in 1901, the Catholic Church "St. Stanislaus" from 1866, City Hall from 1895 – with its 108-meter tall clock tower and mosque Tripoli Shrine Temple in 1928 – which is a famous landmark in the city. The mosque is built with inspiration from the Taj Mahal in India.
Other attractions include Milwaukee "Discovery World Museum" – a popular science museum with interactive exhibits and "Milwaukee Art Museum" – Museum of Art, where such can see the works of Degas, Monet, Picasso and Miró.
The city also has a zoo, a botanical garden, a children's museum, a Harley Davidson Museum and a number of parks and recreational areas.
Milwaukee hosts many annual music festivals, and is therefore often called "The City of Festivals."
The nearest airport is General Mitchell International Airport, located 13 km south of downtown.