Car rental Minneapolis
Find the best price for car hire in Minneapolis. Goautos.com compares prices from well-known car rental companies in Minneapolis. Search now to see the best deals!
Minneapolis guide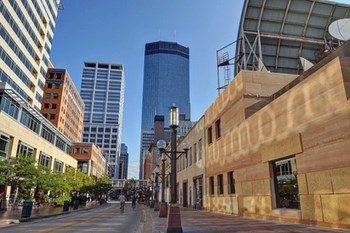 Minneapolis is located in the state of Minnesota, more specifically the Mississippi River. The city has about 400,000 inhabitants (2011), but is gradually merging with Saint Paul (the state capital). Altogether, this metropolitan area ("Twin Cities") around 3.5 million inhabitants. Many of them are of Scandinavian and German descent.
St. Anthony Falls, located at Minneapolis, has throughout its history been important as a driving force for extensive sawmill and milling operations – which still has nutritional value. "The Grain Exchange" (corn exchange) is one of the largest grain markets for cash sales worldwide. Minneapolis is otherwise a major transport hub and education center.
Minneapolis became a city in 1867 and was merged with the neighboring city of St. Anthony in 1872. The university was founded in 1851 – and at the beginning of the 1900s was the Symphony Orchestra, one of America's most famous, founded. In all Minneapolis has a very active and varied cultural life.
Many of the most popular attractions in Minneapolis is related to outdoor recreation. In relation to the many lakes within the city region it is a number of beautiful parks. The most famous (and most visited) is Lake Minnetonka – and in Loring Park will be celebrated 17 May each year. Minneapolis is actually the "Norwegian fans" of all U.S. cities. The city also has its "Norway House".
Otherwise, it must be noted that the city has several theaters and museums, and many tourists find their way to the exciting art museum "Minneapolis Institute of Arts." Families with children would also like to bring a visit to the great amusement park "Valley Fair Amusement Park".
The nearest airport is Minneapolis – Saint Paul International Airport, located 17 km south of the city.