Car rental Missoula
Find the best price for car hire in Missoula. Goautos.com compares prices from well-known car rental companies in Missoula. Search now to see the best deals!
Missoula guide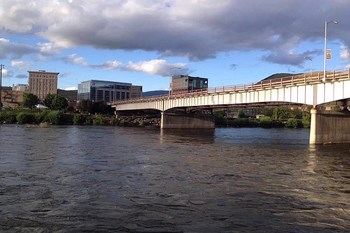 Missoula is a relatively small city in the Missoula Valley in the U.S. state of Montana. The city has about 67,000 inhabitants (2011), and is a commercial and industrial center – in addition to a number of media companies are located here. Missoula also has its own university.
Archaeological evidence indicates that people lived in the valley as early as the end of the last ice age. In the 1700s, French fur hunters flocked here. Many of them were subjected to ambush from local Indian tribes, and were told that the narrow entrance to the valley was so filled with human bones later, the French dubbed it "Hell's Gate". This name was used until the city was renamed to Missoula in 1866. Then shot the economic development momentum, and the city was a key feature in this part of Montana.
Two of the major industries in Missoula, tourism and brewery operations. There are a number of large and small brewery in the town.
It regularly arranged several cultural festivals in Missoula – primarily in film and literature – and the city is also known for its many annual markets, including "Missoula Farmer's Market" and "People's Market" (with the sale of arts and crafts).The city also has two very active theaters.
Otherwise Missoula several interesting museums to show, among other things Art and Cultural Museum "The Montana Museum", the History Museum "Historic Fort Missoula", "Rocky Mountain Museum of Military History" and "Northern Rockies Heritage Center".The latter two museums partly reflects Missoula proximity to mountains Rocky Mountains.
The nearest airport is Missoula International Airport, located 7 km northwest of the city.