Car rental Monastir
Find the best price for car hire in Monastir. Goautos.com compares prices from well-known car rental companies in Monastir. Search now to see the best deals!
Monastir guide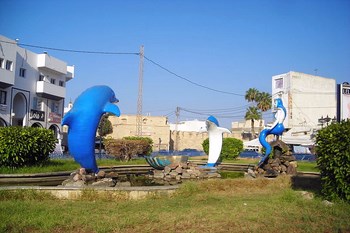 Monastir is located on the east coast of Tunisia on the Mediterranean Sea – about 174 km south of the capital Tunis and 25 km south of the famous tourist town of Sousse.
Monastir has 420,000 inhabitants (ca. 40,000 in the city), and is a modern university and seaport. The main industry is tourism.
The city is the birthplace of Tunisia's first president Habib Bourguiba, and a major tourist attraction in Monastir Bourguiba's Mausoleum in 1968 – with two minarets and gilded dome. There is also the mosque from 1963 – which can accommodate up to 1000 people. However, it is only Muslims who have access to the mosque.
Another attraction in Monastir's Ribat fortress monastery from year 796 The castle is open to the public, and from the tower boasts a wonderful view of the city.
Also the magnificent city park "Jardin Public", a visit.
Monastir is otherwise a pleasant Mediterranean climate, great welcoming sandy beaches, excellent diving opportunities, palmekransede boulevards and a beautiful marina. The historic old town – "Medina" – are a number of lively bazaars and small shops.
Most hotels are located in the new district – where there is also good selection of modern shops and nice restaurants.
Just outside Monastir is the popular golf courses "Magic Life Flamingo" and "Palm Links."
The city's airport – Monastir International Airport – 9 km southwest of the city.