Car rental Orlando
Compare prices and find cheap car hire in Orlando from well-known and local car hire companies. Insurances and unlimited mileage are included. Save up to 70% on car rental in Orlando through us.
Orlando guide
Orlando is located in the US state of Florida,about 75 miles northeast of Tampa. The city itself has a population of around 230,000 (2010), but if the entire metropolitan area is included, the population rises to over 2 million.
Orlando's history as a city dates back to the 1830s. It was first known by the name Fort Gatlin, but was later named after an American officer who was killed by Native Americans here in 1835. Today's Orlando is a significant industrial city– but is probably primarily known as a starting point for tourists from all over the world – who want to bring with them the many attractions nearby.
Attractions
Orlando's sights are primarily associated with a number of large entertainment complexes, which together attract over 40 million visitors annually. The city is therefore often called the"Entertainment Capital of the World". The largest of them is walt disney world resort, located southwest of downtown – established in 1971. It covers a total area of 120 km2, and includes four major theme parks, two waterlands and a number of hotels and restaurants.
In the same area is also the Florida branch of the film company Universal Studios, as well as Sea World – a chain of marine amusement parks that also has branches in San Antonio and San Diego. In Sea World you can experience bla. dolphins, sea lions, killer whales and flamingos – as well as the park's range of activities related to water.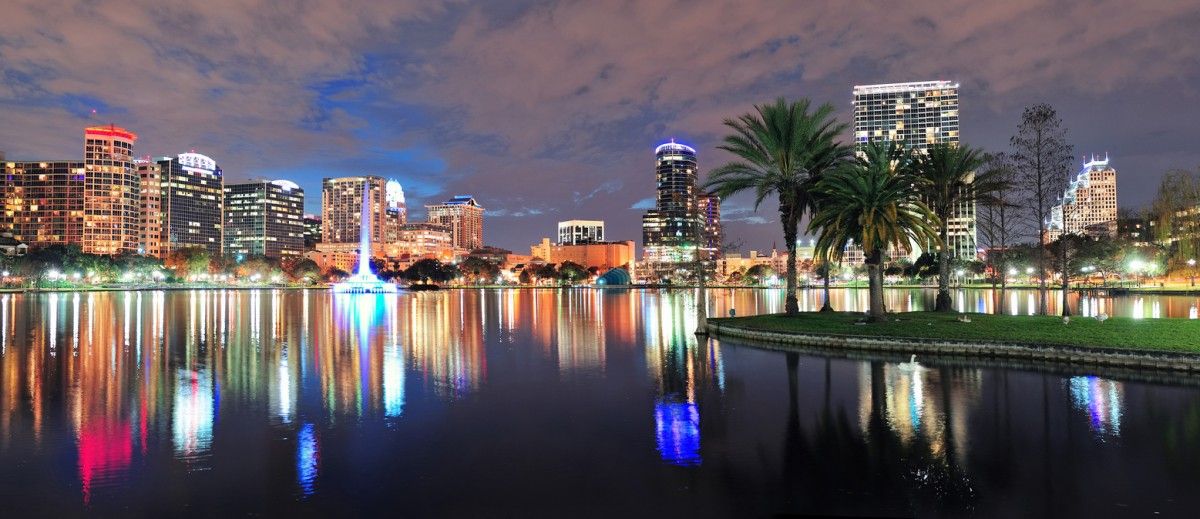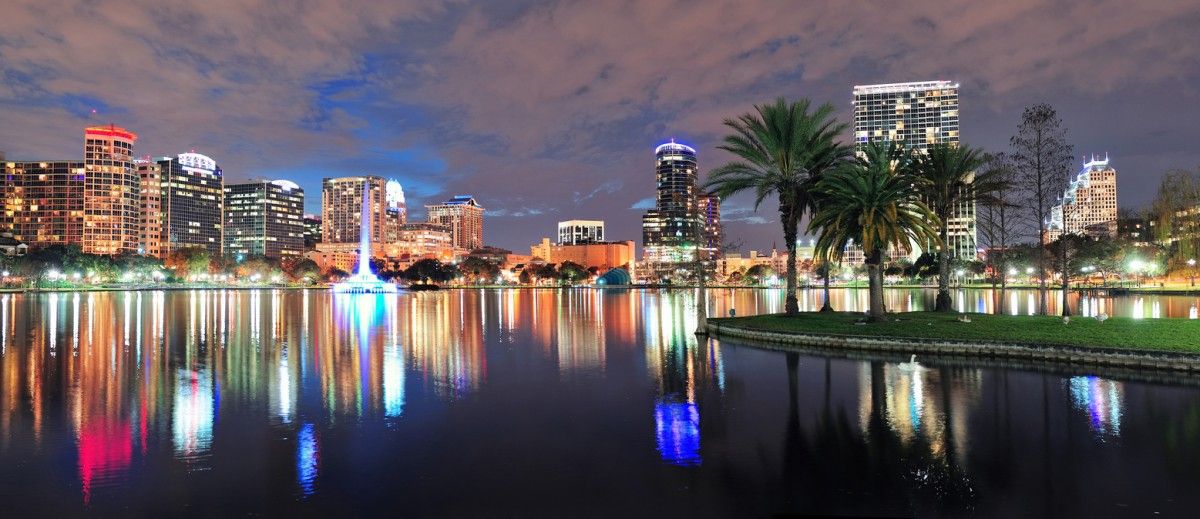 Explore Orlando with car hire
There's a lot to do in Orlando, especially for families with children, or adults who are young at heart. Still, it's probably the case that you can get a little tired of the amusement parks, and maybe get to see more of Florida. With car rental you reach cities on both coasts during a fairly short drive and you have many nature experiences to take for you in this part of the United States. Below are some suggestions for driving routes. Read also our guides to Miami and Fort Lauderdale for more inspiration for car rental excursions.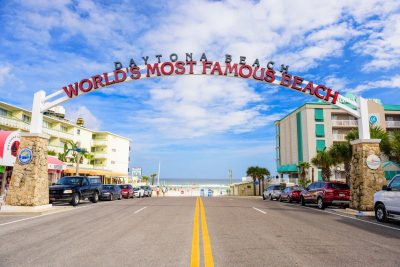 Daytona Beach – Motor racing and swimming
Daytona Beach is a relatively small town on Florida's east coast, not too far from Orlando. Despite the in american context small size of the city, Daytona Beach is very well known. Here, the famous Daytona 500 (NASCAR) race is held, and several other motorsport sprints. Originally it was the hard-packed sand on the beaches of the area that made motorsport become an important activity in Daytona. The races then went on the beaches, and people flocked to watch the speed swings. Daytona Beach is also a very popular resort for students on our holiday, but is also suitable for families who want to enjoy the swimming on florida's coast.
It is just under 60 miles between Orlando and Daytona Beach. The drive takes no more than a maximum of 1 hour and is ideal for a day trip if you want to sunbathe and swim while visiting Orlando.
Miami and Fort Lauderdale – Florida's big cities
These two major cities are located in one with each other, on the coast south of Orlando. Here the skyscrapers stop where the beaches and the sea begin. Large parts of the cities are modern and luxurious,but you will also find historic districts with small houses, villas, country houses and quiet streets on the outskirts of the city centre. The marina and beaches of Fort Lauderdale should be highlighted in particular. You can walk for hours and admire the view, the impressive vessels, and take a dip from time to time. If you are interested in art and culture, head to Las Olas Boulevard,where you will find many exciting museums, galleries and art centres. Among the many other things worth experiencing are the Art Deco district of South Beach in Miami, and the Cuban district of Little Havana.
From Orlando to Fort Lauderdale, it's about 220 miles. Without stopping, the drive takes 3 hours and 15 minutes.
From Orlando to Miami, it's about 240 miles. The drive will normally take approximately 2 hours and 30 minutes if you drive without stopping along the way.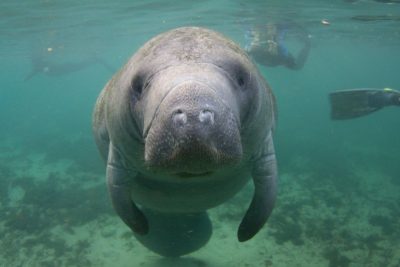 Ellie Schiller Homosassa Springs Wildlife State Park – Unique Wildlife
This park has been a tourist destination since the 1880s. The reason is, among other things, the diverse and unique wildlife here, as well as the park's fascinating vegetation. In Homosassa Springs you will find the rare manatees (sea cow) that can be almost 4.5 meters long and can weigh over half a ton. There are also alligators and crocodiles, black bears, otters, white-tailed deer, red lynx and many different snake species in the area. In addition, there are some species that have been put out here, such as floridapanter and African hippo. To take a look at wildlife, book trips with various boats, or descend into the underwater observatory "The Fish Bowl".
From Orlando to the Homosassa Springs Visitor Center, it's about 90 miles. You drive on the motorway most of the stretch, and normally spend about 1 hour and 30 minutes.
Lake Tohopekaliga – Guided fishing trip
Located just outside Orlando in a southerly direction, this lake is also called West Lake or just Lake Toho. The lake is a popular destination for people who either live in Orlando or visit the city on vacation. Here you go to look at wildlife, go for walks in green surroundings, or to fish. In lake Toho there are among perch the size of large cod from the sea, and which can weigh up to 13 kilograms. You can rent yourself both a boat and a guide that shows you how to fish for your perch. The chances of catching are very good. The best place to do this is in the town of Kissimmee located at the north end of the lake. If you drive to Kissimmee Lakefront Park you will find plenty of parking spaces, a company that arranges guided fishing trips, and a marina nearby.
From downtown Orlando to Kissimmee Lakefront Park at Lake Tohopekaliga, it's about 22 miles. The drive will take you about 30 minutes.
Parking and traffic with car hire
Orlando is one of the easiest major cities in the United States to find parking in. Here there are many parking facilities, both privately run and publicly owned, in addition to quite a good selection of spaces along the streets. If you leave your car in a street, you'll have to pay on parkometers that stand on the sidewalks, and the price is relatively low. After 18:00 until 08:00 the next morning, as well as on Sundays and national holidays, street parking is free. In the parking garages, the prices are slightly higher, but it is not uncommon for you to have to pay as little as USD 2 per hour. The publicly owned garage facilities also have maximum prices per day, and often around USD 15.
Driving in Orlando is both easy and a little fussy. The simple thing is that the roads are good, and it is almost impossible to drive wrong because the roads and quarters are square. The fussy thing is that there is a lot of traffic on the roads, especially in the center of the city. This is especially true when you are going on or off a freeway during rush hour. Nevertheless, it is rare for traffic to be completely quiet in Orlando, and despite a bit of traffic here and there, you usually get to the fastest with a rental car.


Airport
There are three airports serving the area Orlando is located in, but two of these we can almost disregard. The vast majority of air traffic from Europe, and also domestically in the United States, goes via the main airport Orlando International Airport. It is located just a few kilometers southeast of downtown Orlando. There are direct links to nearly 140 international and national destinations, including many of Europe's major cities. In total, Orlando International Airport serves approximately 50 million passengers a year.
Orlando is considered one of the world's largest car rental market, and of course you'll find a comprehensive selection of car hire companies at the airport. These include the best-known international players such as Hertz, Budget, Avis, National and Alamo, as well as a number of US companies such as E-Z Rent A Car and Payless. All car hire companies have their counters in the main terminal,with easy access to the parking spaces. At this airport you can check in on your flight at the same place that you return the rental car.
From Orlando International Airport to Downtown Orlando it is about 18 kilometers. The driving time is normally only 15 to 20 minutes.