Car rental Phoenix
Compare prices and find cheap car hire in Phoenix from well-known and local car hire companies. Insurances and unlimited mileage are included. Save up to 70% on car rental in Phoenix through us.
Phoenix guide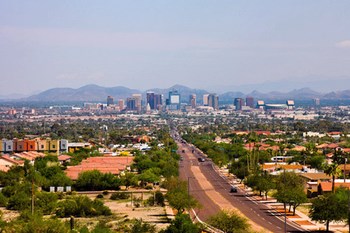 Phoenix is located on the Salt River and is the capital and largest city in the US state of Arizona. In the city itself there are about 1.6 million inhabitants, while the population in the entire metropolitan area is around 4.2 million (2010).
Founded in 1867, Phoenix has been the capital of Arizona since 1912. The special name has been given because it rose up as a "Bird Fønix" from ancient Native American ruins. There has been Indian settlement in this area since around 300 bc. Kr.
The city, located in a dry (but artificially watered) valley – "Valley of the Sun" – has since 2. World War II more than tenfold its population. This growth has occurred in line with an increased agricultural production (especially of citrus fruits and cotton), as well as a significant growth in the electronics, aerospace and aerospace industries.
The warm climate has also attracted many retirees, who have established their own districts such as "Sun City" and "Sun City West" on the outskirts of the city centre.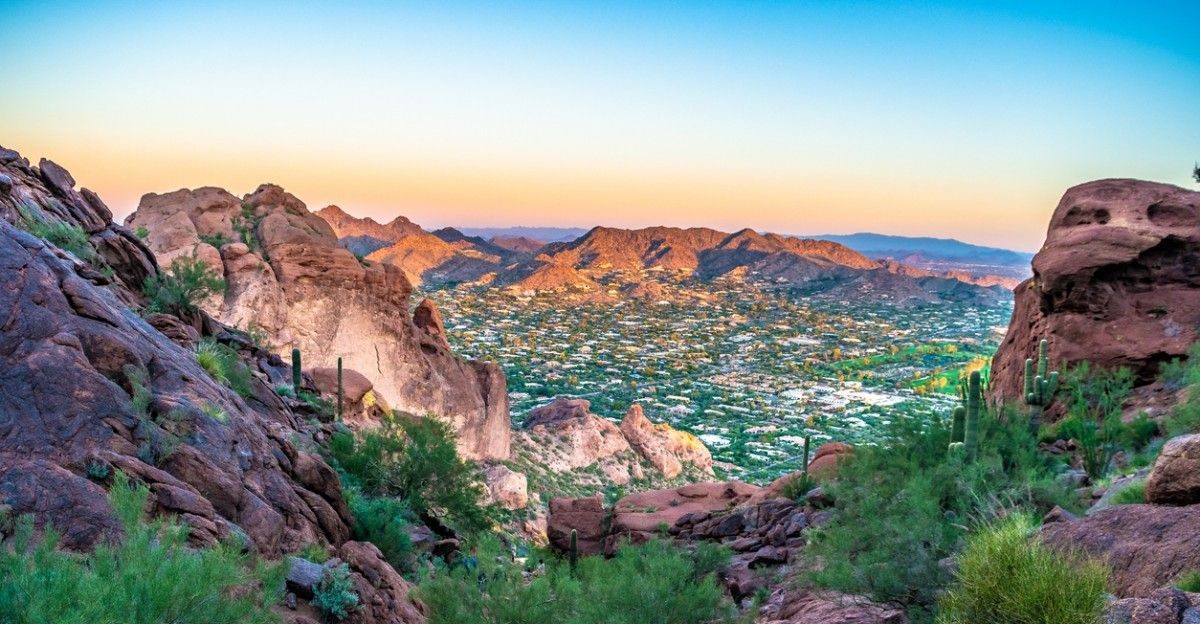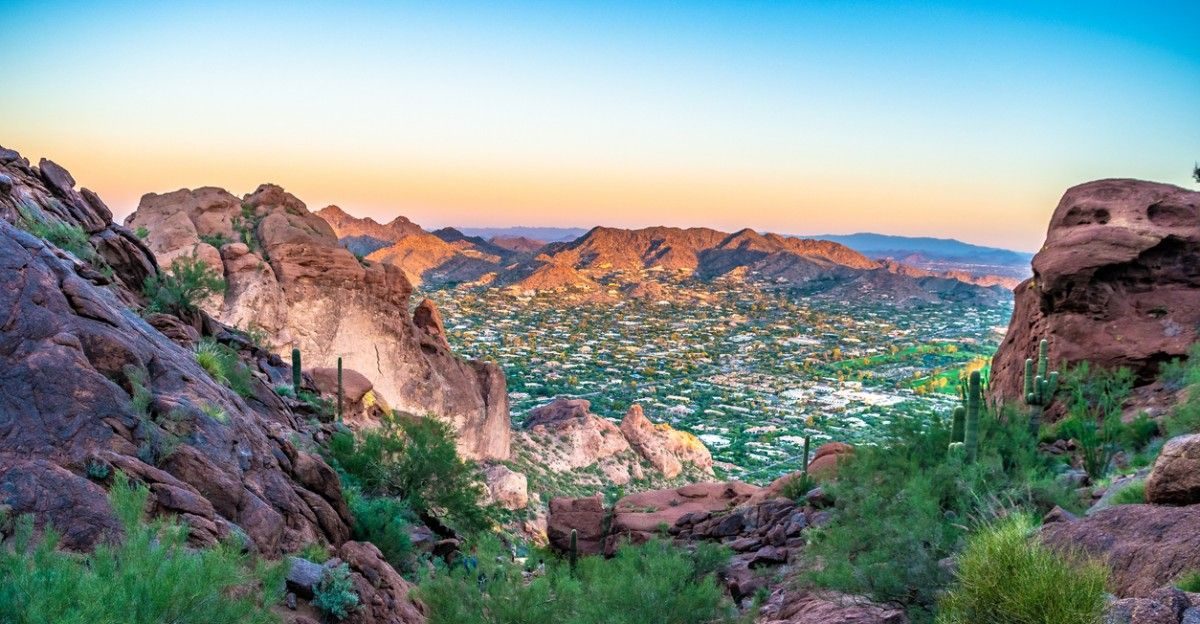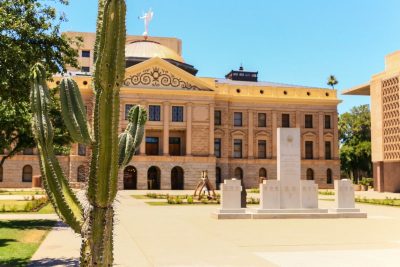 Attractions
There are a number of exciting museums in Phoenix – including "Phoenix Art Museum", "Heard Museum" – with exhibition of handicrafts, instrument museum "Musival Instrument Museum", "Arizona Mining & Mineral Museum" as well as a separate museum for children, "Phoenix Children's Museum". Children will probably also enjoy a visit to the zoo "Phoenix Zoo".
Another popular beeth is theDesert Botanical Garden– a large botanical garden with plants adapted to desert conditions.
Explore Phoenix with car hire
People in Arizona call their state "The Grand Canyon State," and the landscape has the dominant role in Arizona's identity. Here you will recognize a lot if you have seen movies about the Wild West. If you're in Phoenix and have a rental car, there are a number of rides that you should get with you. It is easy and easy to move on the good roads, but remember that the rental car should have air conditioning that is in good condition. In Arizona, it's hot and dry all year round. Here are some suggestions for what you might experience.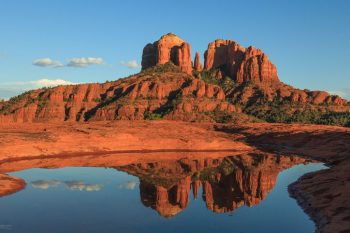 Sedona – The spa and wine town in Arizona's most beautiful landscape
Sedona is a small town with only 10,000 inhabitants,well known for its unique and beautiful surroundings. It is located inside a desert landscape characterized by steep cliffs and deep gorges, where the mountainsides are red and orange-colored sandstone rich in iron. Here it is popular to stop by to take guided tours of the landscape, learn about the culture and history, attend one of the many festivals held in the city, or enjoy spas and excellent restaurants. Good wines are produced in the district, and wine tasting is one of Sedona's most popular activities.
From downtown Phoenix to Sedona, it's about 115 miles. With no stops along the way, you can expect the car rental drive to take 1 hour and 50 minutes.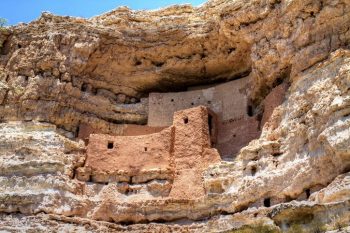 Montezuma Castle – Impressive 100's cliff house
Montezuma Castle is located in Camp Verde, Arizona, and is a residential complex built by the Sinagua people approximately between the 12th and 15th centuries. The dwellings are carved into the rock face, and are on five floors. In there there were about 60 rooms at most, and it is believed that around 20 to 50 people lived in each room. There are several such cliff dwellings in the area that are built by the indigenous people of North America, but Montezuma Castle is considered the best preserved. A visit here usually includes a walk through the complex with a guide, a tour of the National Monument's museum, and a good meal outdoors on the banks of the Nearby Beaver Creek River.
Montezuma Castle National Monument is located 90 miles north of Phoenix and on the road to both Sedona and Flagstaff. The driving time is just under 1 hour and 30 minutes.
Bisbee – An authentic and historic mining town
If you're in Arizona and want to experience something real American, a visit to Bisbee should be high on the list. The small town on the border with Mexico has only 5500 inhabitants. It was founded in the 1880s by gold miners who settled in this mineral-rich area. In the center you will find old and small brick houses that are well preserved and that give an authentic impression of what life in the city was like 140 years ago. Bisbee has won awards as the best preserved historic city in the United States, and is considered a lively and friendly place to visit. There are a number of exciting activities there, you can visit the disused mines,and the city has a variety of good dining options serving traditional cuisine. There are also many festivals in Bisbee, within all kinds of cultural genres. Note that on the road from Phoenix to Bisbee you will pass Tombstone, another city that many know from movies and books about the Wild West.
From downtown Phoenix to Bisbee it is about 330 kilometers. Without stopping, the drive takes about 3 hours and 10 minutes.
Grand Canyon – One of the wonders of the world
The Grand Canyon is definitely one of the largest landmarks in the United States. Here, the Colorado River has been eroding for hundreds of millions of years, creating a 270-mile corridor in the landscape. At its deepest, the gorge is about 1800 meters, and at its widest about 29 kilometers. Urinary tracts in North America inhabited the area thousands of years ago and until modern times. Down into the gorge there is a rich wildlife, and of course good access to water and other resources. In addition, the gorge provided shelter for both enemies and forces of nature. The entire Grand Canyon is within the borders of Arizona, and it's easy to get here from Phoenix if you have a rental car. Please note that if you want to stay at one of the many hotels on the edge of the gorge, you should book in advance.
From Phoenix to the Grand Canyon Visitor Center, with yavapai point views and Mather Point nearby, it's about 220 miles. The driving time without a stop is about 3 hours and 30 minutes.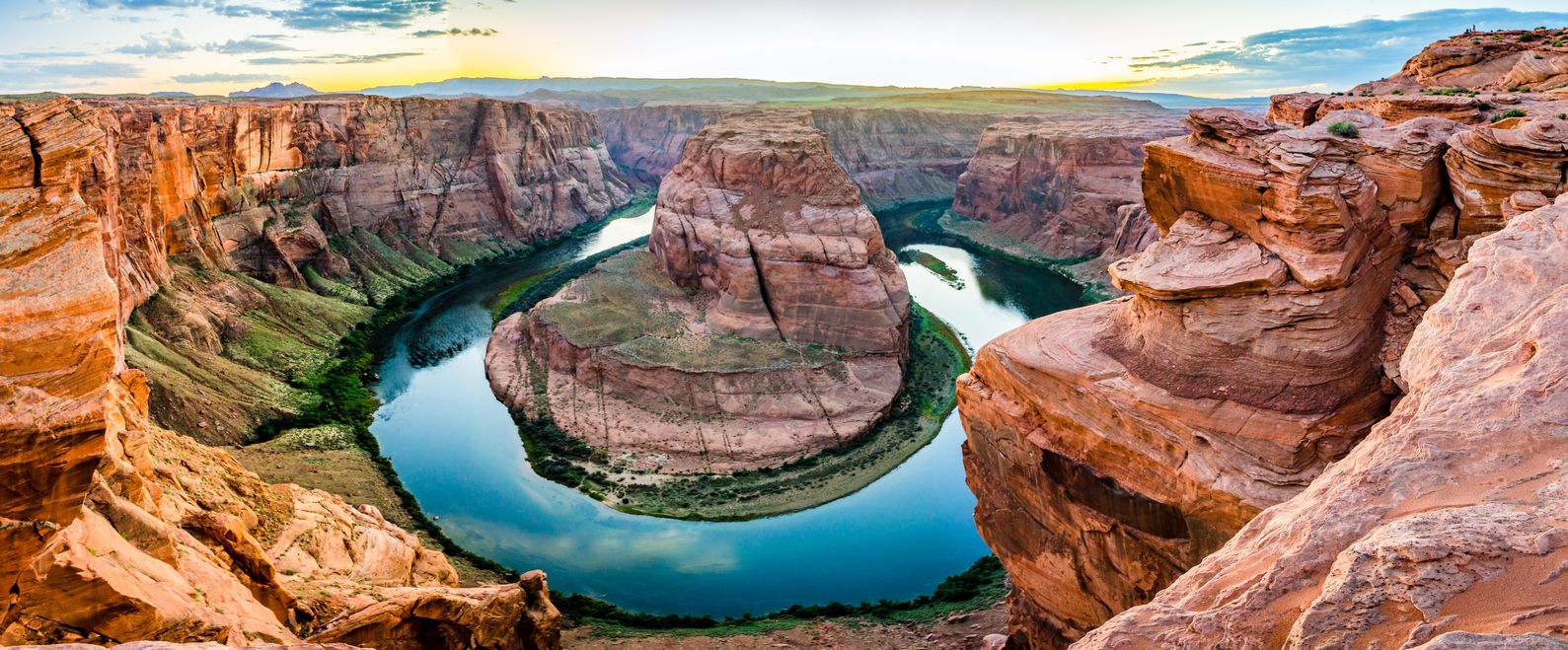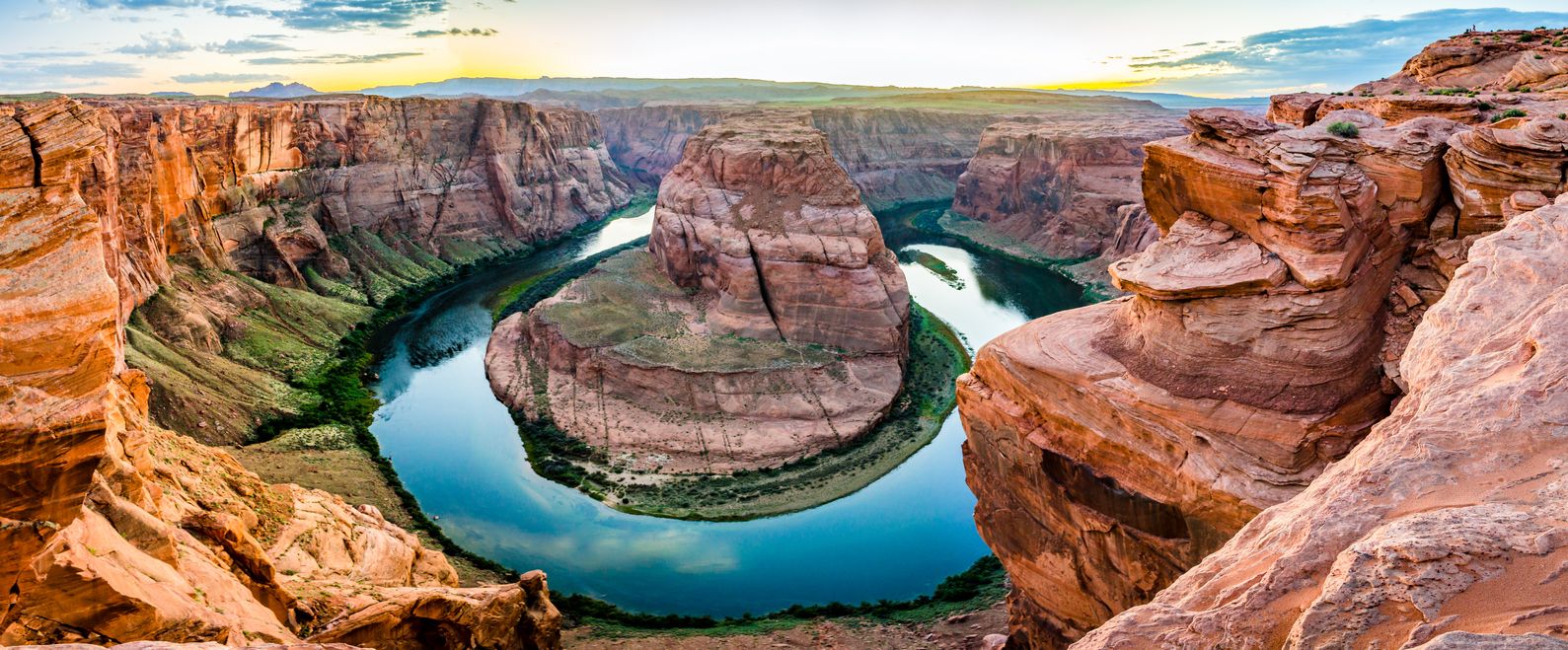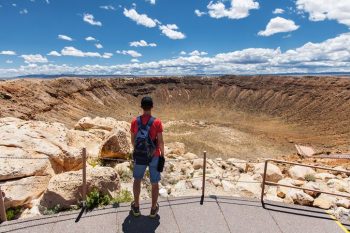 Meteor Crater – Stop by if you're going to the moon
As the name implies, of course, meteor crater Natural Landmark is a meteor crater. The crater itself occurred about 50,000 years ago– when a meteor found it too good to land there. The collision is believed to have had a force equivalent to over 20 million tonnes of dynamite (TNT). The crater that the collision created has a circumference of about 1200 meters and is 170 meters at its deepest. For those interested in geology, it can be mentioned that down in the crater you will see several soil layers that were created around 250 million years ago. Besides serving as a training ground for NASA astronauts,Meteor Crater is one of the most important landmarks in Arizona. There is a very modern visitor centre where you can learn more about the crater and have a good meal at The Blasted Bistro.
Meteor Crater National Landmark is located about 300 kilometers north of Phoenix. The drive without stop will take you about 2 hours and 45 minutes.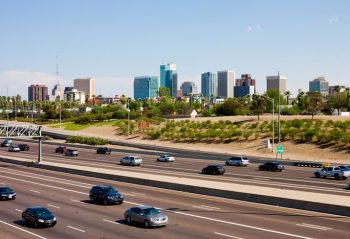 Parking and traffic with car hire
In downtown Phoenix, there are a good deal of parking spaces in the streets that are free to put your car on, but limited to two hours at a time. There are also many of the available fees. These are marked with signs, and you pay a relatively reasonable fee on parkometers. There are also many garage facilities in the city, in addition to the fact that most large hotels have parking spaces also for those who are not guests of the hotel. Here, too, the cost will be relatively affordable, compared to many other major cities in the United States.
Navigating American cities like Phoenix is often very easy. Here all the streets go square, and as long as you know which direction you are going in there is little danger of driving wrong. The signage is also good. The city also does not have particularly dense traffic, nor during rush hour. Note that single roads have so-called "HOV-lanes" (High Occupancy Vehicle lanes), that is, separate lanes for those who are more than two in the car (driver plus at least 2 passengers). If you are fewer than three in the car, you risk a fine if you drive in a HOV field.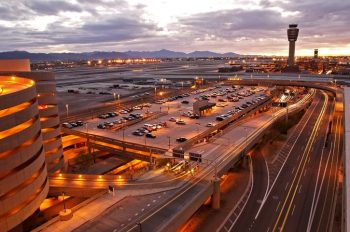 Airport
The main airport outside Phoenix, Arizona, is officially called Phoenix Sky Harbor International Airport. It is ranked as the 44th most outstandinged. most trafficked in the world, serving over 20 million passengers a year. The airport is used for both military and civilian air traffic. Although there are only two operational terminals at Sky Harbor, these are called Terminal 3 and Terminal 4. Terminals 1 and 2 have been closed, and the airport authorities decided that the remaining two terminals should retain their numberings.
All the companies that offer car hire on Sky Harbor are located in a separate center. This is located in a distance beyond the two terminal buildings. You can go there, but the easiest way to get there is to take the shuttle bus marked "Rental Car Shuttle". The bus runs continuously when the airport is open and stops outside the arrivals hall of both terminal buildings. As of today you will find 14 car rental companies at the airport in Phoenix, including international companies such as Thrifty, Hertz, Alamo, Sixt, National, Enterprise, as well as several U.S. companies.
Phoenix Sky Harbor International Airport is just 3.7 mi from downtown Phoenix, and it's very easy to find here. The running time normally will be between 5 and 10 minutes.