Car rental Saint Malo
Find the best price for car hire in Saint Malo. Goautos.com compares prices from well-known car rental companies in Saint Malo. Search now to see the best deals!
Saint Malo guide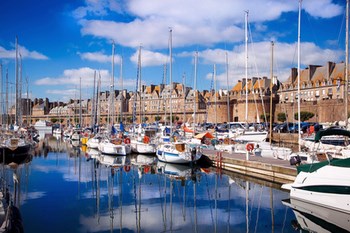 The coastal town of Saint-Malo is located northwest of France – in the region of Brittany – and belonging to the French Ministry of Ille-et-Vilaine.
Saint-Malo is a popular beach and resort – located at the mouth of the Rance River and the Atlantic Ocean. There is ferry service from the port of Saint-Malo to such Plymouth England.
The city has about 50,000 inhabitants (2010) – but when the tourists take Saint-Malo during the summer, increasing its population to nearly 200,000.
Tides are large differences in the coastal city, and it can be up to 14 meters difference between low tide and high tide.
The old city walls from the middle-Saint-Malo still exists and surrounds the old town – located on a rocky promontory. It is also the city's main tourist attractions – including the castle "Château de Saint-Malo" from the 1400s and the church "Cathédrale St-Vincent de Saint Malo" from the 1100s.
Within the city walls are pleasant streets with hotels, restaurants, bars and shops, and a couple times a week held the nice outdoor markets here – which is very popular for tourists.
Bathing beaches of Saint-Malo is also a natural draw for tourists, and there are good opportunities for various water sports.
Aquarium "La Grand Aquarium – Saint-Malo" also recommended a visit. Here are 9 different theme exhibitions including tropical fish, sharks, giant crabs, turtles, etc.
The nearest airport is Dinard – Pleurtuit – Saint-Malo Airport, located 16 km southwest of downtown.