Car rental Sicily
Compare prices and find cheap car hire in Sicily from well-known and local car hire companies. Insurances and unlimited mileage are included. Save up to 70% on car rental in Sicily through us.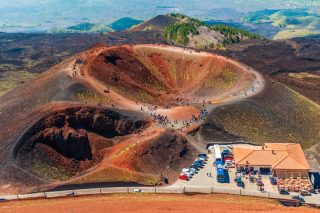 Sicily Guide
Sicily is the largest island in the Mediterranean,and one of the five autonomous regions of Italy. There are just under 5 million inhabitants living here. The history of Sicily is long and exciting. The first people on the island may have arrived over 14,000 years ago, before, among other things, Faroe, Greeks, Romans and Moors conquered the area.
In modern times, Sicily is known, among other things, for having played a decisive role in the association of Italy, and for being the place from which the criminal organization Cosa Nostra originates.
The island's largest cities are Palermo (668,000 inhabitants), Catania (312,000 inhabitants) and Messina (234,000 inhabitants). Along the coast and up in the mountains there are many beautiful fishing villages and mountain villages.
Tourism has become one of the island's most important industries, together but among other things agriculture, chemical industry, technology and extraction of salt.
Attractions
The nightlife, shopping opportunities, restaurants and so on are about the same in the Sicilian metropolises, like what you will find elsewhere in Italy. On the arts and cultural front, Sicily is considered important in the European context. Many poets, writers, painters and other creative souls are born and raised in Sicily, or they have had long stays here.
The many archaeological excavations in Sicily are among the most important sights. You will find several places here with ruins and remains from Faroe, Romans, Moors and ancient Greeks, such as temples,arenas, amphitheatres and villas.
The island is also known for its several hundred fortresses and castles, not to mention the many towers that stand along the coast. Nature is varied and beautiful. In Sicily you will find mount Mount Etna, with a height of 3326 meters above sea level.
Sicily's pleasant climate, good food traditions, varied villages, beautiful beaches and exciting culture have made the island a very popular holiday destination.
Explore Sicily with car hire
It is no problem to spend many weeks exploring Sicily with car rental. The island is large, and the number of places worth visiting is overwhelming. Here you will find everything from quiet and quiet fishing villages, to big cities like Palermo where the pulse is completely different. Sicily is packed with beautiful beaches along the coast, and inland there are mountains with villages, vineyards, olive gardens, and beautiful landscapes. There are also many archaeological excavations in Sicily that tell about the island's exciting history. Here is a small selection of recommended driving routes.
Distances and driving time in Sicily
Providing distances and driving time to the recommended rides is not appropriate in this guide. Instead, we choose to show distances and driving time between some of the largest cities. This will give you an idea of what you need from time to get between the places you want to see. Please note that these distances are those that run on the motorway.
Trapani to Palermo – the distance is 107 kilometers, the driving time is 1 hour and 25 minutes.
Palermo to Messina along the coast – the distance is 225 kilometers, driving time is 2 hours and 30 minutes.
Palermo to Catania via A19 domestic – the distance is 210 kilometers, driving time is 2 hours and 25 minutes.
Messina to Catania along the coast – the distance is 96 kilometers, driving time is 1 hour and 10 minutes.
Catania to Siracusa along the coast – the distance is 67 kilometers, driving time is 55 minutes.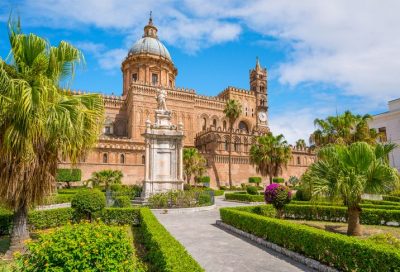 Palermo – A cultural melting pot
If you are in Sicily and have enough time, you will almost have to make a visit to Palermo. The city is the largest on the island, and was also the capital of what was once the Sicilian Kingdom, and later in the Holy Roman Empire. Palermo is a mecca for those who like culture, older history, beautiful buildings and, not least, very good food. In Palermo, one should take the time to look at the great architecture of different eras, visit the beautiful piazzas,go to the food markets,sit to the cafes, and maybe take a shopping round. The city has all sorts of cultural events to offer, there are many exciting museums here, and you will find mostly located centrally. If you need to relax with some sunbathing and swimming afterwards, you have beautiful beaches just on the outskirts of the city centre.
Taormina – Exciting seaside town at Etna's foot
If you are near Messina or Catania when visiting Sicily, consider a trip to the small town of Taormina. It is located on a cliff at the very shores of the Ionian Sea, and at the foot of Etna. The city is considered very beautiful. The German poet Goethe described Taormina in one of his books, and believed that the city was among Europe's most beautiful. Besides its location, Taormina's main attraction is an amphitheatre left after ancient Greeks. On the city's north side you will find fortifications that were built when Arabs ruled the island, and in the center dominate beautiful brick houses and churches from the 13th and 14th centuries. After taking a look at the city up on the cliff, you can stroll down to the sea and the beaches. Also stop by the small islet is Isola Bella (you can go dry shod) and look at rare flowers and plants that are cultivated there.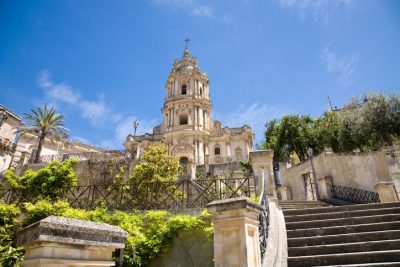 Ragusa – One of Sicily's most beautiful small towns
In 1693, the southern part of Sicily was hit by a powerful earthquake. The quake caused major damage in the cities, and many lives were lost. The Baroque building style prevailed in Italy when the cities were to be rebuilt, which you see very clearly in, among other things, Ragusa. The city is located quite close to the airport in Comiso, and is one of six similar cities in the same area that is now a UNESCO World Heritage Site. The buildings stretch up on a hill, as many others do in Sicily. It is divided in two, Ragusa Ibla in the bottom, and Ragusa Superiore at the top, and connected by four beautiful bridges. You will find many lovely churches in the city, several small palaces, lovely small streets, stairs and a quiet atmosphere. The food served at the local restaurant is heavenly, and the area has a variety of traditional dishes that can't be found elsewhere in Sicily.
Cefalù – One of the best seaside resorts
Cefalú is one of the best small towns to visit in Sicily, if you want to combine beautiful architecture,nice atmosphere and good food, with great beaches and bathing life. The city is set around a rocky cliff, where you will find the ruins of an Arab fort,and a newer fortress from the Holy Roman Empire. In the historic part of Cefalú there are many impressive buildings. The most famous is the Duomo di Cefalú, a unique cathedral that was built already in 1130. The coast around the city is packed with lovely beaches. Inside the center of Cefalú lies the one that is most popular, the beach il Lungomare. It is over five kilometres long and has golden and clean sand. Here it is shallow, which makes the bath temperature usually excellent. During the tourist season there is a lot of activity at Il Lungomare, but if you want to enjoy a quieter beach, you will find many options nearby.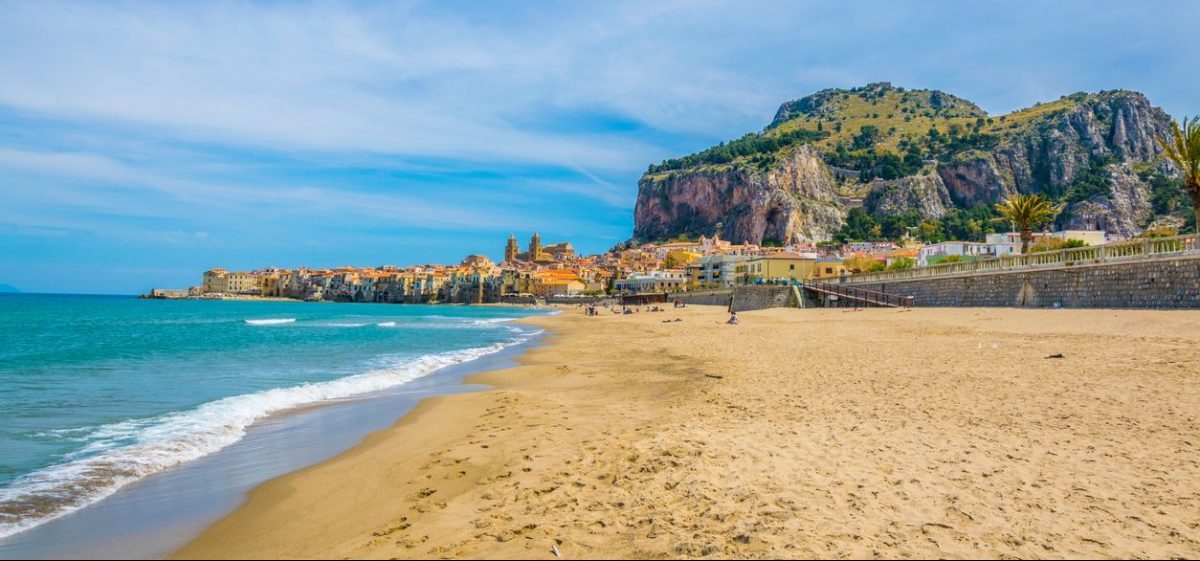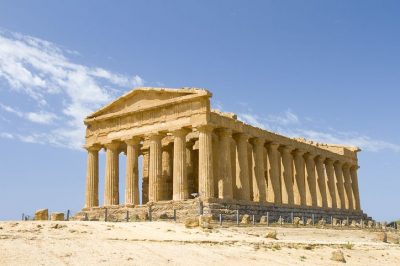 Agrigento – The city of the Greek temples
The town of Agrigento is located on a hill, a few kilometers from the sea on Sicily's southern coast. From Palermo it is about 127 kilometers there, and a driving time of around 2 hours. The city itself is worth a trip by, both because the landscape and the view are great there, and because it has an old and beautiful center. However, the large migratory patch is Valle dei Templi (Tempeldalen) which is located near Agrigento. There you will find well-preserved ruins of several temples, cemeteries, crypts and more, dating to around 500 years f.Kr. The Temple of Concordia is the most impressive. All the columns are intact, which you will find only a few places in what constituted ancient Greece.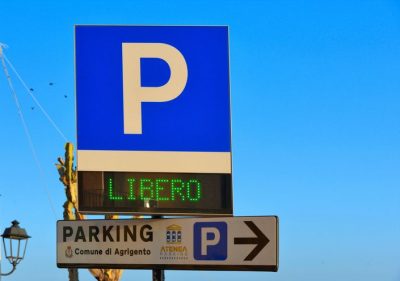 Parking in Sicily
In the towns of Sicily, lines are marked where you can park in the streets. Blue line means that everyone can park, and usually you have to pay a fee. In some places, there are plenty of vending machines for tax pay ,but elsewhere, vending machines can be hard to find. Please note that the parking fee can also be paid in tobacco kiosks. The receipt for paid tax shall be left visible in the front window of the rental car. White lines mean that only residents in the area are allowed to park, while yellow lines are only for vans that pick up and deliver.
You will also find so-called Zona Disco in some places. This means that parking in places marked with blue line is free, but you need to put an oblat (blue) in the window of the car. The oblats can be found at post offices, banks, tobacco kiosks and tourist information. Please note that parking at Zona Disco is limited in time.
In the larger cities you will find some parking garages, and many hotels have their own garages which are often accessible also to those who do not stay at the hotel.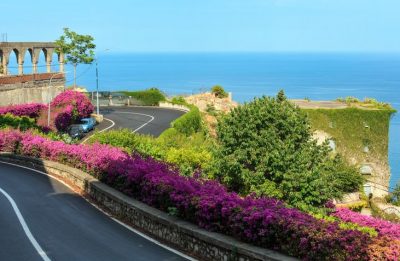 Traffic in Sicily
Driving in the centre of the larger cities such as Palermo, Catania, Siracusa and Messina is not difficult when it comes to navigating its way forward. However, traffic is more aggressive than most other places in Europe. It is recommended that you drive a little defensively, and pay extra attention. Follow the flow in traffic, and remember that not all drivers follow the traffic rules and signs.
In smaller cities, and areas with a historic center, it may be worse to navigate their way forward than in the larger cities. Here, parts of the city centre may be closed to traffic. These zones are called Zona Traffico Limitato (ZTL), and will be marked with signs.
In Sicily you can drive on good highways along the entire north and east coasts. There is also a long stretch of motorway (A19) into the country, across from the north coast down to Catania. It makes it easy to get between Palermo, Messina, Siracusa and Catania, and associated areas.
The traffic is somewhat more quiet and comfortable outside the cities, but here also one should pay a little extra attention. Many of the country roads go in hilly terrain, and can be quite winding.
Airport
There are four international airports in Sicily, in addition to a couple serving only Italian domestic flights. The vast majority of tourists visiting the island have arrivals and departures from either Falcone Borsellino Airport outside Palermo, or Catania–Fontanarossa Airport. These are by far the largest in the number of passengers served. Some charter flights and low-cost airlines also use Trapani-Birgi Airport at the north-west end of Sicily, and Comiso Airport, which is close to the island's southern tip.
Falcone Borsellino Airport
The airport outside Palermo is the second largest in Sicily measured in the number of passengers. Here, a number of European companies fly from virtually every major city on the continent, as well as Alitalia from both Rome and Milan. There are currently also direct flights from New York hit (United Airlines). Many low-cost airlines have flights to Palermo, as are charter operators.
Airport rental in Palermo
At Falcone Borsellino Airport you will find all the car hire companies collected in the arrivals hall. Their cars are parked in a dedicated area right outside and you will not need transportation. As of today you will find rental cars from Avis, Hertz, Europcar, Goldcar and Sixt at the airport, as well as a number of Italian companies.


Catania–Fontanarossa Airport
The airport outside Catania is the largest on the island, with around 10 million passengers a year. Here you can fly from most European cities, as well as a number of other places, including Israel and Dubai. Low-cost carriers like Ryanair fly here from twenty places in Europe, and there are a great deal of charter flights to this part of Sicily.
Car rental at Catania airport
Car rental companies found at catania airport include Sixt, Dollar Car Rental, Thrifty, Holiday Car Rental, Alamo, Enterprise, National and Hertz, as well as five Italian companies. These are gathered in the arrivals hall, with parking space close by.
Trapani-Birgi Airport
The airport in Trapani is officially called Vincenzo Florio Airport Trapani–Birgi, but most often only Trapani Airport is used. It is located in the far north-west of Sicily, and is also the base of the Italian Air Force. As of today, you can fly here with Ryanair from selected cities in Italy and the Netherlands, as well as some other small airlines and charter operators.
Car rental at Trapani Airport
At trapani airport there are 9 companies that do car rental. These include Hertz, Avis, Europcar and Enterprise, as well as Italian players such as Locauto, Essepirent and SicilyByCar.
Comiso Airport
Currently, you can fly to Comiso Airport with low-cost airlines such as Ryanair and easyJet, as well as Alitalia and Brussels Airlines. The airport is suitable for those holidaying on the island's south side, or start exploring Sicily by car rental from this edge of the island.
Car rental at comiso airport
At this airport you will find only a small number of car rental companies. As of today, Avis, Budget and Maggiore have a common counter inside the airport. In addition, the local companies SiciliyByCar and Sicily Rent Car have offices here.