Car rental Siena
Find the best price for car hire in Siena. Goautos.com compares prices from well-known car rental companies in Siena. Search now to see the best deals!
Siena guide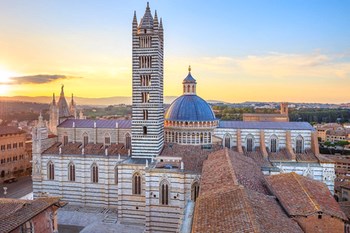 Siena is a city in northern Italy, located in the Tuscany region – about 70 miles south of Florence.The town has 54,000 inhabitants (2010), and is an important cultural center and a major tourist destination. Siena has its own university, which was founded in 1240.
Siena is on three levels and is considered to be one of the most beautiful cities in the Tuscany region.
The city has many historical sights, and Siena's old town is a UNESCO World Heritage Site. Here you will also find the Gothic town hall "Public Palace" from 1200's with the 102-meter high bell tower from 1348. The tower is open to the public.
Also Siena Cathedral – "Duomo di Siena" – is a major tourist attraction. The cathedral is from the 1200s and is situated on a hill in the old town. Close by is the Cathedral Museum, which has many interesting artwork.
The city has otherwise an archaeological museum and a large art museum – "Pinoteca Nazionale".
Siena hosts a variety of annual festivals – and horse race "Il Palio" is held on the main square "Piazza del Campo" two times a year (2 July and 16 August). Kapp races are popular events that attract both tourists and locals.
Nearest international airport is Florence Airport – percolator, located 77 km north of Siena.