Car rental Strasbourg
Find the best price for car hire in Strasbourg. Goautos.com compares prices from well-known car rental companies in Strasbourg. Search now to see the best deals!
Strasbourg guide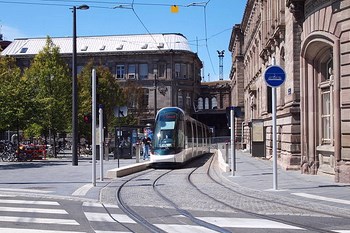 Strasbourg (German: Strassburg) Located in northeast France – Alsace region, and is the capital of the Department Bas-Rhin.The city has 273,000 inhabitants (2010), and it is estimated   suburbs, its population rises to almost 440,000 inhabitants. The city center is situated on the Ill River, ca. 4 km west of the Rhine.
Strasbourg is an important communication, business and cultural center in this part of France. Many international organizations and institutions are also located here – including The European Court of Human Rights and the Council of Europe. In addition, the European Parliament holds its sessions here.
The city is also an educational center with several universities and colleges. Strasbourg's oldest university, founded in 1538. Mediaeval Strasbourg has alternated between being French and German town – but since 1919 has Alcas region has been part of France. The city is relatively strongly influenced by its German history.
Among Strasbourg's main attractions include the Old Town, which is concentrated on an island in the river Ill. It was founded already in the Roman times as a fortress. The old town is characterized by well-preserved buildings and narrow, picturesque streets. The whole town is a UNESCO World Heritage Site.
Of the old city's many interesting individual buildings include Notre Dame Cathedral, which was begun in the 1000's. It is known for its beautiful stained glass windows and its astronomical clock. Nearby is the Palace "Palais des Rohan" from the 1700s. This includes learning a number of interesting artwork and an archaeological museum.
Slightly southwest of the old town, we find it exciting quarter "La Petite France" – with picturesque half-timbered houses, intimate restaurants, hotels and souvenir shops. In relation to this, the "Pont Couvant" with a distinctive bridge / dam and four surviving tower from the 1200s. Here we also find the pretty little park "Bain-aux-Plantes." In addition, the modern art museum "Musée d'Art Moderne et Contemporain", containing art from the 1860s onwards to our time.
A visit to the Quartier Allemand (German quarter) in the city center is also recommended. The quarter is dominated by buildings in neoclassical style. Or you can take a short trip north of the city, and put off the old Imperial Palace "Palais du Rhin" a visit.
The nearest airport is Strasbourg Airport, located 10 km southwest of the city.