Car rental Venice
Compare prices and find cheap car hire in Venice from well-known and local car hire companies. Insurances and unlimited mileage are included. Save up to 70% on car rental in Venice through us.
Venice guide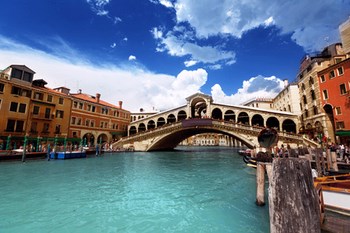 Venice is located in the northeast of Italy on the Adriatic Sea and is the capital of the Veneto region. The town has about 270,000 inhabitants (2011). Venice is located on 118 islands in Laguna Veneta (Venice Lagoon), and the city is very famous for its canals,gondolas, its architecture and its history.
Venice has over 40 km of canals, and the most famous is the "Grand Canal". The city has more than 400 bridges that bindthe city together , and a large part of both passenger and goods transport takes place on the canals.
Venice is a popular tourist destination and about 15 million visit the city annually. Tourism is also the city's main source of income.
Attractions
Venice's old town is crawled through canals and features many stately palaces, churches and narrow streets. The 12th-century Doge's Palace – "Palazzo Ducale" – is one of them, and this was formerly a government building and courtroom.
St. Mark's Square – "Piazza San Marco" is a popular meeting place for tourists in Venice. The square is 175 meters long and 82 meters wide, and is surrounded by office buildings from the 15th- 18th century. There is also St. Mark's Basilica "Basilica San Marco" from 1063 with its 99-metre-high clock tower, a UNESCO World Heritage Site.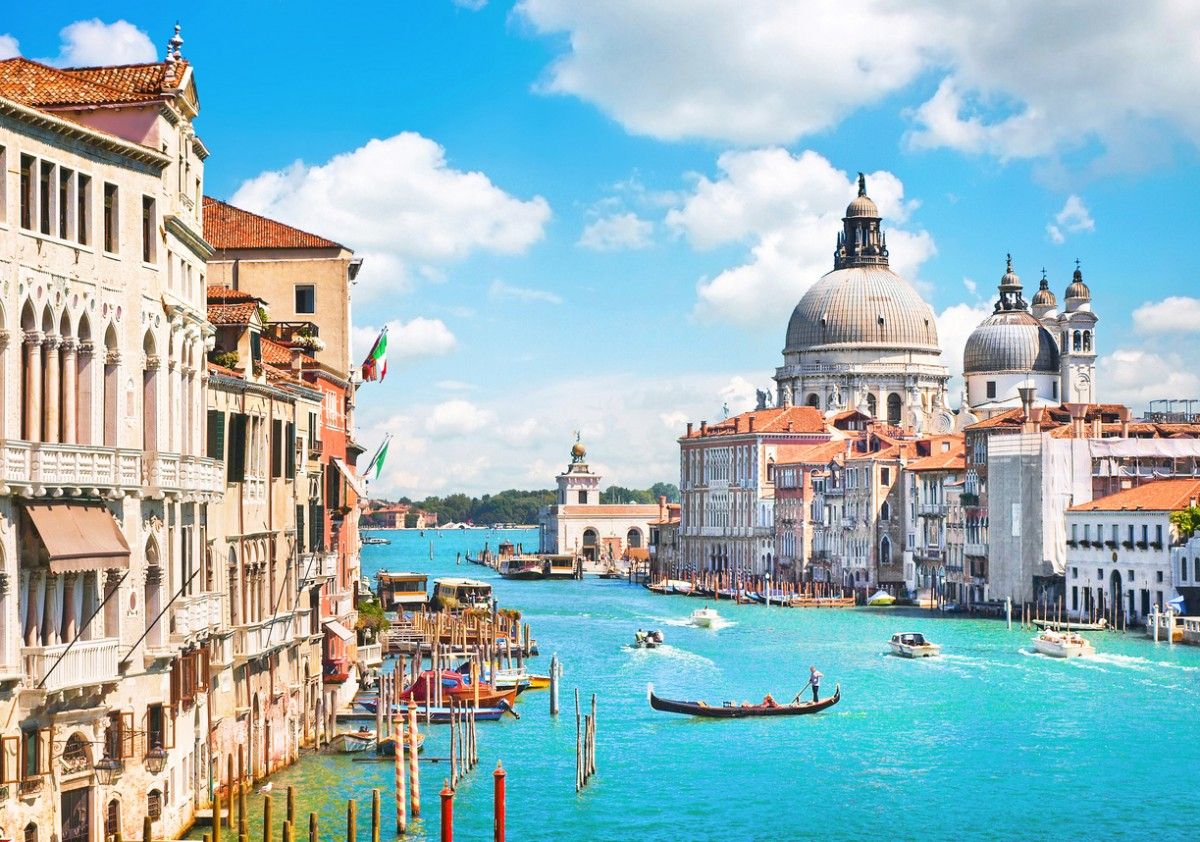 Otherwise, the Bridge of Sighs from 1597 and the Rialto Bridge from the late 16th century are popular attractions.
Venice hosts a number of annual art, music, and theatre activities.
Explore Venice with car hire
Although there is more than enough to see and experience in Venice, it is not wrong to take any excursions to other places in the region. In this area of Italy there are very many exciting cities that have a long and interesting history. It is also a short distance to the Alps, with beautiful mountain villages in beautiful nature. Here are some suggestions for the most popular day trips by car rental.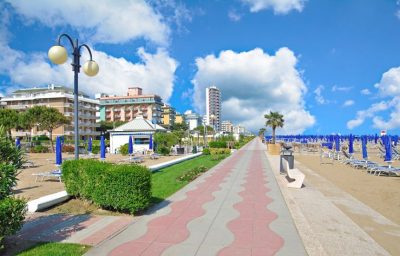 Lido di Jesolo – Seaside resort with excellent beach
If you feel like sunbathing and swimming while in Venice, the small town of Jesolo is an excellent place to take a drive to. There you will find one of Italy's largest and best beaches, Lido di Jesolo. The sand is clean and comfortable, there is room for thousands of bathers at the same time, and you will find everything you need for a comfortable stay in the sun. The sun loungers line up along the multi-kilometre-long beach and can be rented for a reasonable price. There are also clean and neat toilets and shower facilities here. Along the beach you will find the bars, restaurants and cafés close-in. In the evenings and nights there is a vibrant folk life along the beach,but Lido di Jesolo is still a very safe and family-friendly place. Many people actually choose to stay here when they primarily intend to experience Venice. The distance is short, and it is rarely wrong to choose a hotel located on a beautiful beach.
From Venice to Lido di Jesolo it is about 45 kilometers. The drive goes on the mainland around the bay and takes about 45 minutes.
Ravenna – The Mosaic City on the Adriatic Sea
Ravenna is a medium-sized town located some distance south of Venice, along the coast of the Adriatic Sea, and near Rimini. It was the capital of what constituted the Western Roman Empire in the 5th century, and in the centuries after that Ravenna established itself as a center of art, culture, religion and commerce. The city has an old city centre with 8 buildings that are a UNESCO World Heritage Site,as well as many other sights. Among the most famous are the mausoleum Galla Placida, and the Basilica of San Vitale, both of which are adorned with beautiful mosaics from it 5th and 6th century. In Ravenna there are often classical concerts with famous artists, there are many cultural festivals there, and the city especially appeals to those interested in history. The food traditions are also something residents can be proud of, and you will find restaurants that serve delicious food in all price ranges. It is also not far from the city center until you reach beautiful beaches on the Adriatic Sea.
From Venice to Ravenna it is 144 kilometers if you drive the fastest route that goes along the coast. The driving time is then about 2 hours and 15 minutes.
Cortina d'Ampezzo
Most people only say Cortina when they refer to Cortina d'Ampezzo, and the city is well known as one of Italy's largest ski destinations. It is located in the Dolomites, a mountainous area belonging to the Alps in southern Tyrol. If you visit Venice in winter and have a rental car, this is the city to go to to ski. There are more than 100 groomed slopes in the area, and together these make up over 1200 kilometres of trails. Cortina is also a great place to stop by in summer. The Dolomites are just as beautiful then, and you can reach the peaks with either the ski lifts, gondolas or on foot. The city itself is characterized by beautiful settlement, surrounded by equally beautiful nature. The shopping opportunities are good, and you will find more than enough delicious eateries, cafes and bars in Cortina.
From Venice to Cortina d'Ampezzo it is 158 kilometers. The drive without stopping normally takes about 2 hours.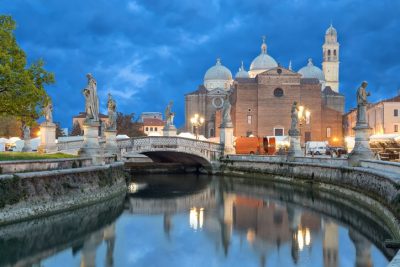 Padua – One of northern Italy's most magnificent major cities
Padua is a relatively large city, with approximately 215,000 inhabitants. It is believed to be one of the oldest cities in northern Italy, and is said to have been first established by the Trojan prince Aeneid about 1,200 years f.Kr. The city centre is considered very beautiful, and you will find among other things the world's oldest botanical garden here. The garden is from 1545 and is a UNESCO World Heritage Site. In the center there are of course also many beautiful buildings from the Middle Ages onwards, with a good mix of architectural styles. Culture and art are two concepts that characterize Padua. Many well-known artists have originated here, or settled in the city. In the city's museums you can see some of the most famous paintings and sculptures in the world. You will also find many church buildings here that are uniquely adorned by famous artists. Padua is also known for having a quiet and comfortable atmosphere than venice, as there are fewer tourists in this city. Good shopping and dining experiences are also key words that can be used about Padua.
It is only 30 miles from Venice to Padua. The car rental drive takes no more than about 40 minutes.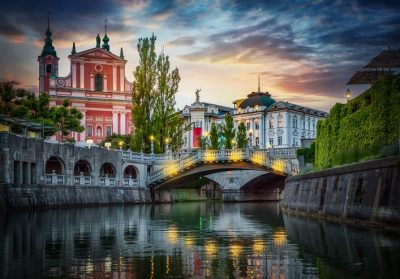 Ljubljana – Europe's most pleasant capital
The capital of Slovenia is not a long way from Venice and is one of the best rides you can treat yourself to when you are on this side of Italy. In Ljubljana you will find a unique nightlife, a very beautiful city center, many sights and perhaps the most pleasant atmosphere among European capitals. Ljubljana is also a very safe city to travel in, and its inhabitants are considered accommodating, helpful, and happy to have a chat with those who come to visit. Many people go to Ljubljana to eat at the restaurants there. Cooking has become an important ingredient in the city's culture, and restaurants draw inspiration both locally and from neighboring countries. The access to raw materials of all kinds is very good. It is affordable to dine out in Ljubljana, even at the luxury restaurants. There is also always something culturally exciting happening in the city. Check in advance if you can catch a concert or festival when you stop by.
From the center of Venice to Ljubljana in Slovenia it is about 240 kilometers. The drive there takes about 2 hours and 40 minutes.
Parking and traffic with car hire
If you are on a day trip to Venice, consider leaving your car in one of the mainland parking facilities,right next to ponte della Libertà. From there you can take the boat or bus into the city. The very center of the city is most accessible on foot or in a gondola, and motorized vehicles are not allowed there. The vast majority of the city's historic center is within a so-called ZTL zone (Zona Traffico Limitato). There are also some parking facilities at the end of the bridge on the island itself, and close to the train station, but here the prices for parking are somewhat higher.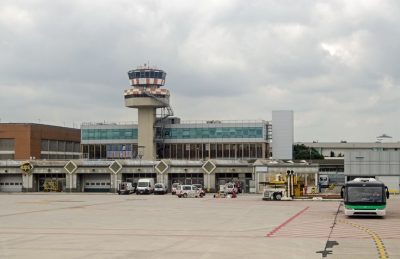 Airport
The airport serving Venice is called Venice Marco Polo Airport. It is located on the mainland north of the city, with only a short drive via the Ponte della Libertà bridge into the city centre. Due to Venice's popularity, the airport has become the fourth largest in Italy in terms of number of passengers. There are about 11 million people a year who have arrived and departed from here. You can fly directly to Venice from most European major cities all year round. There are also direct flights from several cities in the United States, the Emirates,and some lances in North Africa.
The car hire companies at Marco Polo Airport are gathered in a separate center close to the parking facility marked with P1. There is also the rental car you are going to pick up, and you also deliver in the same place. The centre is located on the third floor of the terminal building. As of today there are 10 car rental companies at this airport, including international players such as Sixt, Hertz, Europcar, Avis and Enterprise, as well as some Italian companies such as Maggiore and Autovia.
From Venice Marco Polo Airport to the center of Venice it is about 13 kilometers. The drive takes about 15 minutes.