Car rental Ankara
Find the best price for car hire in Ankara. Goautos.com compares prices from well-known car rental companies in Ankara. Search now to see the best deals!
Ankara guide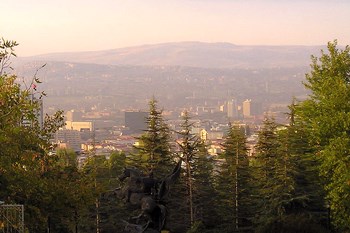 Ankara, Turkey's capital, is located in the western part of the country. Ankara has approximately 4.6 million inhabitants (2011), and is the country's second largest city (after Istanbul ).
Ankara is 900 meters above sea level and has a typical inland climate – hot summers and cold winters.
The city is Turkey's economic, administrative, industrial and commercial center and a major transportation hub. Ankara is the seat of the Turkish Government, and houses several government buildings and embassies. In addition, the city at eight universities.
Ankara was previously known for its production of angora (mohair).
The city has a diverse architecture from different eras, many monuments from Roman and Byzantine times – including Roman baths from the 200-plus century Roman temple.
A major tourist attraction in Ankara is the archaeological museum – which has a famous Hittite collection from ca. year 1800 BC Kr.
Other well-known attractions include Ankara Alaaddin Mosque from the 1100s, Kocatepe Mosque from 1987 – the city's largest mosque (which seats 24,000 people), the mausoleum of Kemal Ataturk in 1953, the 3,000 year old Ankara Castle and Atakule TV Tower – a 125 meter high tower with observation deck and revolving restaurant on top. TV tower was built in 1989.
Ankara has also many opera houses and theaters, a botanical garden, an aviation museum, a historical museum and an ethnographic museum.
The city's main airport – Ankara Esenboga International Airport – located 29 miles northeast of downtown.