Car rental Bali
Find the best price for car hire in Bali. Goautos.com compares prices from well-known car rental companies in Bali. Search now to see the best deals!
Bali guide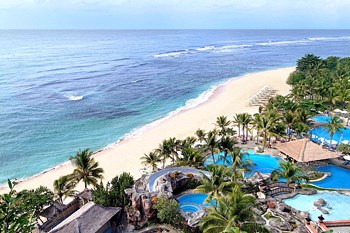 The island of Bali lies between Java and Lombok in Indonesia, and part Sunda Islands. Bali is also a separate province in Indonesia, with 4.2 million inhabitants (2012).The capital is Denpasar, located on the island's southern coast. It has about 700,000 inhabitants (2010).
The interior of Bali is dominated by an east-west mountain range, where the highest peak is the still active volcano Gunung Agung (3142 m). The volcano had its last major eruption in 1963, when about 1,500 people died. Otherwise, Bali mostly of fertile plains, where it is chiefly cultivated rice, corn, coconuts, coffee and fruit.
Bali has a tropical climate, which means it is warm all year round – the island is surrounded by inviting white beaches. Popular places for surfing and swimming and nightlife are the areas around the towns of Kuta and Seminyak the very south. And Nusa Dua and Jimbaran, located in the same area, is known for its many luxury hotels. It is a short distance from here to the capital, which of course also offers a variety of opportunities for shopping and nightlife.
If you want a more active vacation, a trip up the volcano Gunung Agung to recommend. Many people go up there to enjoy the unforgettable sunrise. There is also Lake Batur, where you can rent a boat – or you can visit Bali's largest Hindu temple, Besakih, located at the foot of the volcano.
There are several national parks in Bali. The largest and most popular is the West Bali National Park, located on a peninsula in the north west corner of the island. The park has an area of 190 km2 throughout and offers an exceptionally rich flora and fauna.
Otherwise Bali has many unique cultural experiences to offer. The small town of Ubud, located 22 km north of Densapar, specializing in the art. In addition to its many art shops and dance is the city known especially for the wonderful nature reserve Monkey Forest.
Also in the eastern part of Bali, there are a variety of attractions – from traditional Balinese village culture to sun and beach in Padangbai and Candidasa. And in the village of Tirta Ganga, you can experience a spectacular "water palace". One of the most visited sights in the whole west is the ancient temple of Tanah Lot, which is built on a rock in the ocean.
The nearest airport is Denpasar International Airport (Ngurah Rai), located at Kuta, ca. 17 km southwest of the capital Denpasar.