Car rental Brasilia
Find the best price for car hire in Brasília. Goautos.com compares prices from well-known car rental companies in Brasília. Search now to see the best deals!
Brasília guide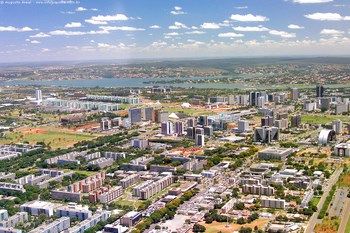 Brasilia is Brazil's capital and is located approximately in the center of the country in the state of Goias.The city has a population of 2,609,997 (2011) inhabitants.
Brasília is the largest city in the world that did not exist at the beginning of the 1900s. The reason is that the city was planned and developed under President Juscelino Kubitschek in 1956. But in the late 1800s it was decided by Brazil's capital should be centered in the country. The city was planned according to the principles of the famous architect Le Corbusier, and is shaped like an airplane with the body and wings. The whole town was built in 41 months, and 22 April of 1960 it stood ready to be appointed as the Brazilian capital.
UNESCO has included Brasília on its World Heritage List. One of the major architectural attractions include Cathedral of Brasilia by architect Oscar Niemeyer who is in the street Eixo Monumental. At the end of Eixo Monumental is Esplanada dos Ministerios, an open area in the center of Brasilia. The rectangular lawn is surrounded by avenues, and there are many government buildings, monuments and memorials. Brasilia's largest park paraquet Nacional de Brasília, is 30 000 hectares and a popular recreation area.
At the UNESCO World has stimulated the development of non-polluting industries such as software, film, video and gemmology with emphasis on the ecological balance.
The kitchen has a large variety, and many of the best restaurants in town is located in the Asa Sul district.
Brasilia Presidente Juscelino Kubitschek International Airport is located 11 km outside the city center.