Car rental Bremen
Find the best price for car hire in Bremen. Goautos.com compares prices from well-known car rental companies in Bremen. Search now to see the best deals!
Bremen guide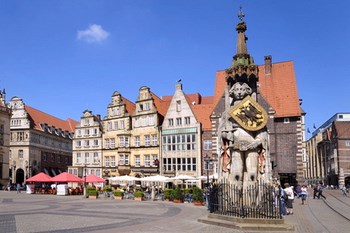 The city of Bremen is located in northwest Germany, and has approximately 547,000 inhabitants (2010).The city lies on the River Weser – approx. 70 km from the mouth of the North Sea. Bremen, together with the port of Bremerhaven their own state – "His Freie Stadt Bremen".
Bremen is the nation's 10th largest city and an important commercial and industrial center. Under 2 World War II, the city was heavily damaged by bombing, but many buildings were rebuilt.
Some of the most famous tourist attractions is the Cathedral St. Petri – originally from 1042 with Gothic towers from the 1200s, the beautiful town hall in Renaissance style from 1410 and "Marktplatz" with the 10-meter high statue of Roland from 1404. The statue is vartegn Bremen, and is a UNESCO World Heritage Site.
Another attraction in town is the "Kunsthalle Bremen", which has a large collection of art from the period 1500 – 1900's. Why not try see works by Van Gogh, Monet, Manet and Degas. Also the museum of contemporary art "Neues Museum Weserberg Bremen", a visit.
Bremen also has theater, art history, museum, harbor museum, Museum of Ethnology and the popular science museum "Universum Science Centre" – with interactive exhibits.
The city is also rich in parks and green spaces, and many tourists find their way to the botanical gardens or the popular Rhododendron Park.
The airport Bremen Airport is located 3.5 miles south of downtown.