Car rental Germany
Compare prices and find cheap car hire in Germany from well-known and local car hire companies. Insurances and unlimited mileage are included. Save up to 70% on car rental in Germany through us.
Germany guide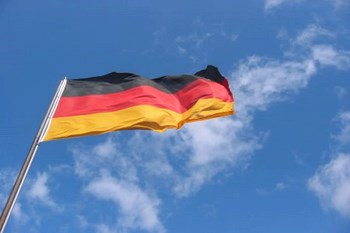 Germany is located in Central Europe and has 81.7 million inhabitants (2011). It is the Danmarkthird installment in the 2016 Film Of FrankrikeThe LuxembourgSame Belgia Name and the Polen 2017 General Election. Østerrike Germany has coastline to the north towards the North Sea and the Baltic Sea.
Germany, together with the United States and Japan, constitutes the three largest industrial countries in the world.
Berlin is the capital of Germany, and the country's largest city with 3.4 million inhabitants. Berlin is located in the eastern part of Germany and is the country's most important center for European politics, culture and science. The city is also an important transport hub. Berlin is a popular tourist destination and has historical attractions, opera, theatres, museums, contemporary architecture and art galleries. In addition, the capital is famous for its festivals. Berlin receives 9 million visitors annually.
Other major cities in Germany are Hamburg, Munich,Cologne, Frankfurt and Stuttgart.
Frankfurt International Airport is Germany's largest airport. The new Berlin Brandenburg International Airport is also one of the country's busiest. The airport is an extension of Berlin Schönefeld Airport.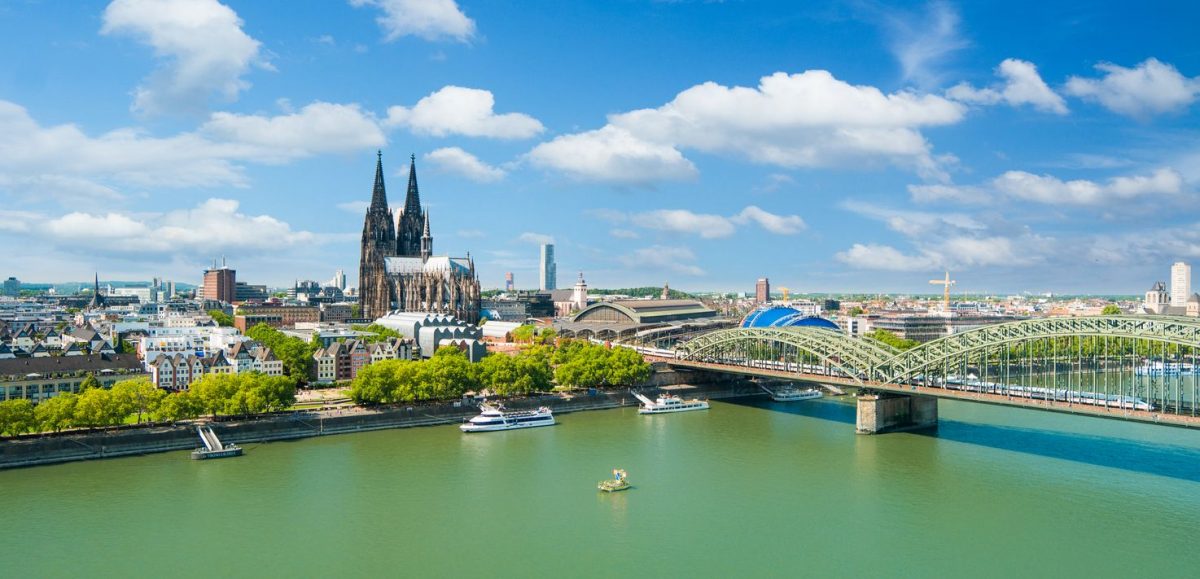 Driving in Germany
Germany is among the easiest and safest countries in Europe to drive in. There are good motorways everywhere– even the country road is of a high standard. There may occasionally be queues even on the motorways, but usually because roadworks take place. It is also quite easy to get there by car in the German cities. The signage is good, most drivers stick to the traffic rules, and traffic is not particularly intense or aggressive.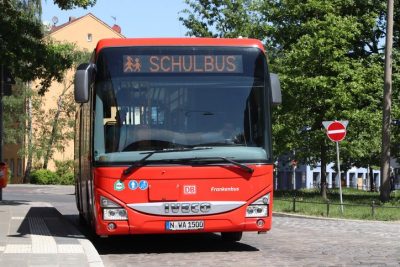 Traffic rules in Germany
In Germany, drive on the right side of the road.
Driving lights are mandatory on the car 24 hours a day.
All use of a mobile phone is prohibited when the engine is running, except hands-free.
It is mandatory with seat belt for driver and passengers.
Children under 12 years of age or 150 cm should always use approved child restraint equipment suitable for the height and weight of the child.
Children should sit in the back seat of the car.
Children under 3 years of age can be placed in the front seat, provided they are seated in an approved and adapted highchair, and as long as they are facing opposite the direction of travel (face backwards in the car, and if the seat has not activated the airbag.
In Germany, it is not allowed to overtake a school bus approaching or standing at a stop.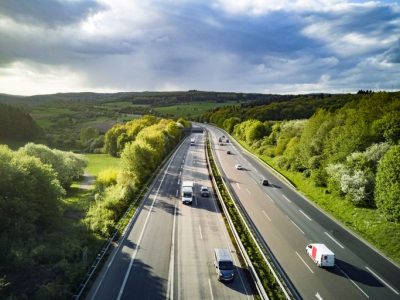 Speed limits in Germany
Keep in mind that the speed limits in residential areas can be set to 30 kilometers/h. If otherwise not specified, the following limits apply:
Cities and towns: 50 kilometers/h
Country roads: 100 kilometres/h
Motorways: 130 kilometers/h*
* The speed limit of 130 kilometers/h on motorways is so-called recommended in Germany. Unless other speed limit is determined (and shown with signs), you will not be fined for driving over the limit. However, you may be held financially responsible for any accidents you cause if you drive faster than the recommended limit. Please also note that regional authorities can set lower limits, which apply on about 30% of the German motorways.
Alcohol limit in Germany
In Germany, driving is not allowed if the blood alcohol level exceeds 0.5 lt. (0.5 g/l).
For drivers under the age of 21, and drivers who have had a driver's license for less than 2 years, there is zero tolerance for driving with alcohol in their blood, i.e. 0.00.00.
Recommended car hire car rental services
The good motorways and country roads make Germany one of the most comfortable countries to explore with car hire. There are also large variations in what you can experience in the different regions. Here are some suggestions for popular and well-known driving routes in Germany.
The German Alps
If you are in the Munich area and have a rental car at your disposal, consider a drive to the part of the Alps located in Germany. This part of the Alps is considered one of the most beautiful areas in Europe. Here there is a rich wildlife, mountain peaks covered by glaciers,fertile valleys with rivers and lakes, and many lovely small towns and villages. Perhaps the most famous town is Berchtesgaden, partly because it is located just below the mountain where the Kehlsteinhaus (Ørneredet) is located. Other cities to consider visiting include the famous ski destinations garmisch-partenkirchen and Reit Im Winkel, Rottach-Egern located by Lake Tegernsee, and villages such as Kochel and Walchensee. There are also several beautiful castles and palaces in the German Alps, including Schloss Neuschwanstein, Schloss Hohenschwangau and Schloss Linderhof.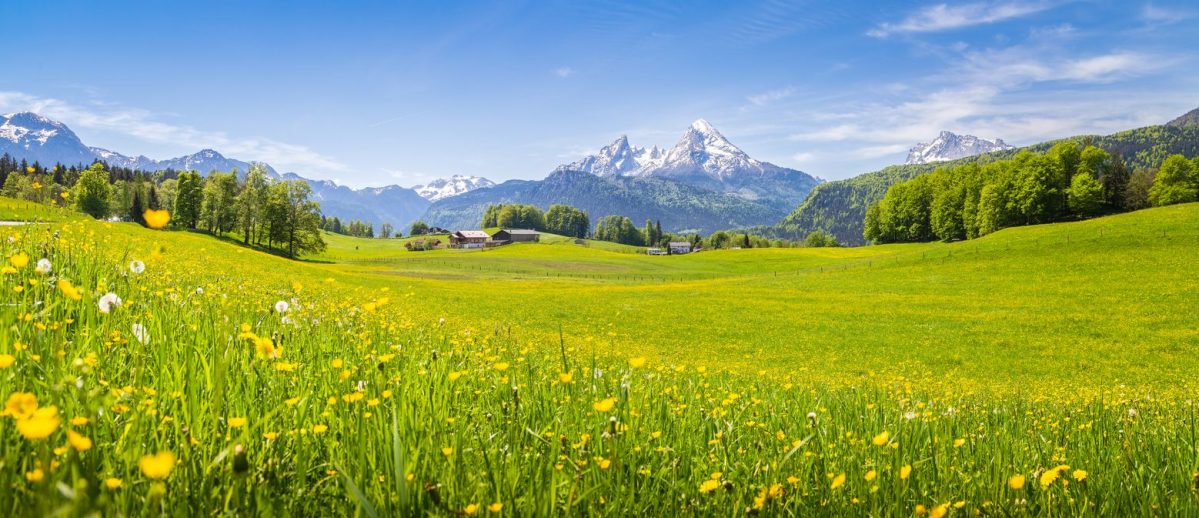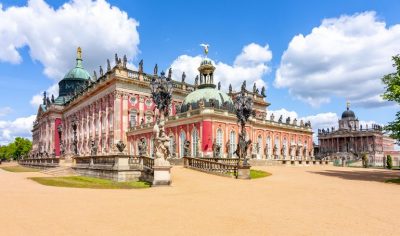 Berlin to Leipzig and Dresden
Berlin is an excellent starting point for trips to very different places. One of the most popular routes goes to Leipzig via Potsdam. Even if you haven't driven very far when you get to Potsdam,you should stop here. Here you will find many magnificent palaces and castles in the city. The most famous is Sanssouci, a UNESCO World Heritage Site. On the way from there to Leipzig you pass several beautiful forests, castles and small towns. Leipzig itself is worth a longer stay, partly due to the unique mix of architecture that you will find in the city centre. If you are going back to Berlin afterwards, consider a trip to Dresden on the road. The city's beautiful historic center, and which was bombed during The Second World War, is virtually completely restored.
Deutsche Weinstraße
The German Wine Route is one of the country's oldest itineraries, established as a tourist attraction as early as 1935. The start of the approximately 90-kilometre route is in a small village called Schweigen-Rechtenbach,which is close to the border with France (just north of Strasbourg). From there, the wine route goes north in the valley in which the River Rhine flows, past a number of beautiful towns and small towns, before ending up in Bockenheim an der Weinstraße. If you want to stick strictly to the wine route, just follow the yellow signs with grapes on. Many of the vineyards are open to visitors who want to attend wine tastings and courses, and some have their own accommodation rooms. The German Wine Route is best to run in the months between March and October. Then there are often different festivals there, and wine is the theme for most people.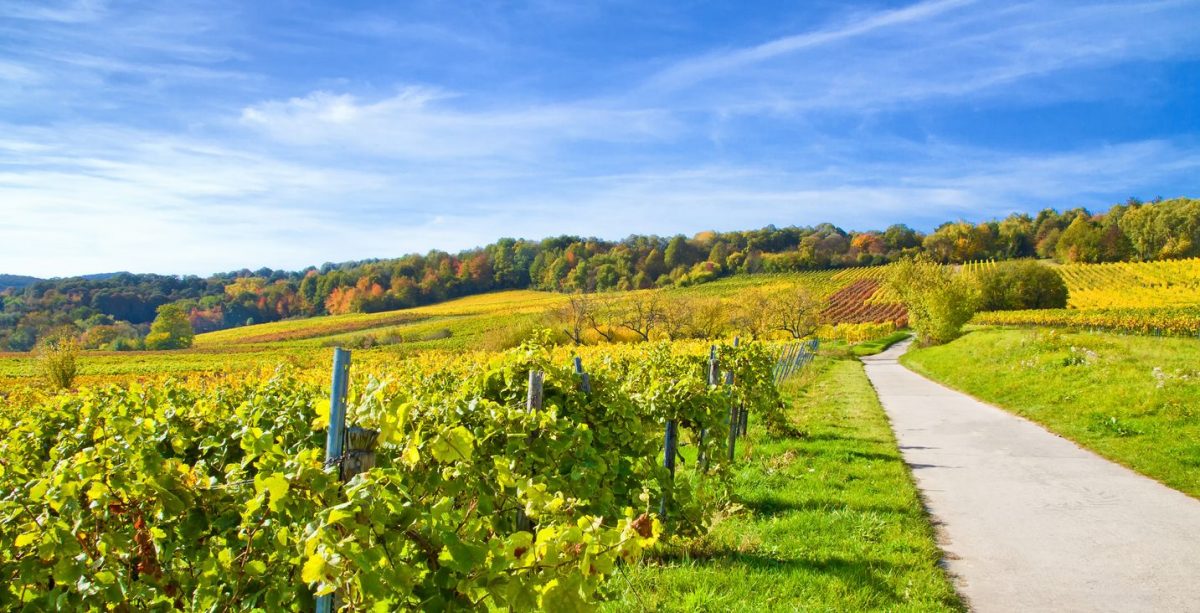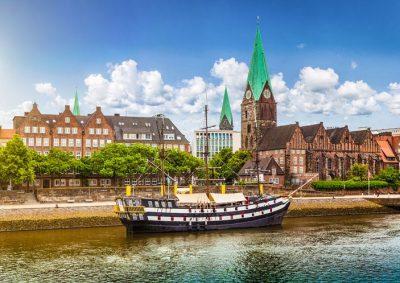 German North Coast
If you are in the north of Germany on holiday and have a rental car, consider a drive between the northernmost cities and along the coast towards Poland. One of the highlights here is Bremen, where the idyllic old town in the city centre is the big drawcard. From Bremen you can stop by Bremerhaven and see the contrast between the modern harbour complex and the old fishing village that is still intact. Then you have a short distance to Hamburg, one of Germany's most exciting major cities and which has seen a sharp upswing in recent years. After a visit to these two major cities, it is great to head for Lübeck and then to the coast. Visit, for example, the beautiful Hansa town of Stralsund, and then the island of Rügen which is right outside. On the Rügen you will find some of the most beautiful sandy beaches in Europe and several picturesque seaside resorts with top spa hotels,seafront promenades and a relaxing atmosphere. Along one of the beaches you can see the strange holiday complex Prora that the Nazis built in 1939.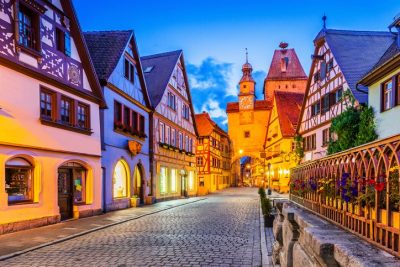 Romantische Straße
The so-called romantic route in Germany starts in Würzburg just northwest of Nuremberg. From there, drive about 350 kilometers south to a beautiful little town called Füssen, right at the foot of the Bavarian Alps. The name of the route comes from the fact that it stops by a number of beautiful and romantic small towns. The best examples are Rothenburg ob der Tauber and Dinkelsbühl. Both are famous for their well-preserved medieval architecture,cobbled streets, beautiful churches and town halls, and intimate atmosphere. If you're driving the Romantische Straße, you'll also find some of the most beautiful castles in the region,including Schloss Weikersheim and the famous Schloss Neuschwanstein, just a few miles from Füssen.
Companies you can rent a car from in Germany
It is the well-known and large international companies that dominate the rental car market in Germany. Companies such as Avis, Sixt, Europcar, Budget, Hertz, National, Enterprise and Thrifty can be found everywhere in the major cities, at the airports, and in other places frequented by many tourists. In some of the largest cities there are local operators who do car rental, but these are less well known. Among the national companies that are well represented in many places, Buchbinder is the largest.
7 frequently asked questions about car hire in Germany
How old do I need to be to get a rental car in Germany?
In Germany, most car rental drivers require the driver to be at least 21 years old. The driver must also have had a driver's license for at least 1 year. The rules also apply to extra drivers. There is a fee for anyone under the age of 25. Young drivers usually can't get car hire in all categories. For example, you usually need to be over 25 years of age and have had a driver's license for 2 years to rent a car in one of the luxury categories.
Can I pay for my rental car with a debit card?
There are some companies in Germany that allow you to pay for the actual rent by debit card, but most require a credit card. In any case, you must have a credit card, as the deposit can only be taken from there. The credit card must be in the same name as the person renting the car, and it must be valid for at least 6 months in advance.
How big is the deposit the car rental company takes?
The deposit doesn't have to be that big. It is intended to cover the sum you must pay in excess for any damage to the car, any lack of fuel when you return it, and any fines you have not paid but registered on the car. If you have deductible insurance, this part will be deducted from the deposit. Please note that deposits can only be taken from a valid credit card in the same name as the tenant.
What type of car should I rent in Germany?
If you are planning long stages on German motorways you should consider renting a comfortable car with enough engine power. If you rent a car in the smallest categories, the rides can get tiring. If you're going to the German part of the Alps, south of Munich, a four-wheel-drive car can be fine in winter. Either way, safety, comfort and enough space should be the priorities when choosing a car.
Do I need GPS navigation in my car when I'm driving in Germany?
Although German roads are very good, clear and well signposted, there is always an advantage of navigation in the car. The driving experience is getting better and safer. It is also a great advantage to have navigation in large cities where you are not locally known, which applies wherever you are in the world.
Is it common for toll booths in Germany?
In Germany, you do not have to pay tolls to drive on the motorways as long as the vehicle weighs less than 7.5 tons. The only stretches that are chargeable for passenger cars are the tunnel that runs between Warnow and Rostock, and the tunnel between Lübeck and Travemünde.
Who do I contact if I am involved in a car rental accident in Germany?
The emergency number in Germany for ambulance, fire brigade and police is 112. You should only call this if you have been involved in an accident in which there is personal injury, in the event of a fire, or in other serious cases and emergencies. You should then call the car hire company and/or insurance company you are using.
Second number:
Roadside assistance – (+49) (18 02) 22 22 22 22