Car rental El Paso
Find the best price for car hire in El Paso. Goautos.com compares prices from well-known car rental companies in El Paso. Search now to see the best deals!
El Paso guide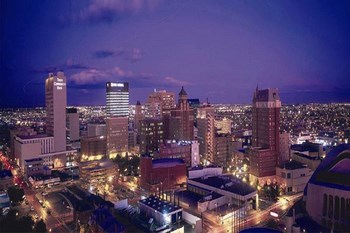 El Paso is located at the westernmost tip of Texas, specifically the Rio Grande, which is the border river with Mexico.The city has just under 610,000 inhabitants (2010), the majority of whom are of Spanish (Mexican) origin. Several bridges over the Rio Grande connecting El Paso on the Mexican neighboring Ciudad Juárez.
The city was founded in the early 1600's, but did not receive official city status until 1859. Along with the urban region around El Paso forms a metropolitan area with a total population of almost 750,000.
After El Paso got rail connection in 1881, was the city into a period of strong growth – and it is now an important financial and commercial center with a strong Mexican feel. The surrounding town is otherwise characterized by such cotton growing and cattle-breeding.
Tourist influx to El Paso is significant – and one of the attractions of the city is an authentic, restored Mexican town. The city has also several interesting museums – including "The Centennial Museum and Chihuahuan Desert Gardens" – a cultural and natural history museum, "El Paso Museum of Archaeology" – an archaeological museum, "El Paso Museum of History" – a historical museum and art museum "The El Paso Museum of Art" . The latter is close to the city's famous and popular Plaza Theater, founded ca. 1930. The theater is housed in a building in the Spanish inspired colonial, regarded as one of El Paso's landmarks.
Otherwise, El Paso characterized by a strong military presence. In and around the city is the large military installations, including Fort Bliss, which was built in 1848 to defend the city against the Apache Indians. Fort Bliss is now a center for the U.S. Air Force, and a crew of about 20,000 are stationed there. Not far away, in the neighboring state of New Mexico, is the famous shoot the 'White Sands Missile Range. " For those interested in military history, a visit to "Fort Bliss Museum & Study Center" to recommend.
The nearest airport is El Paso International Airport, located 12 km northwest of the city.