Car rental Freiburg
Find the best price for car hire in Freiburg. Goautos.com compares prices from well-known car rental companies in Freiburg. Search now to see the best deals!
Freiburg guide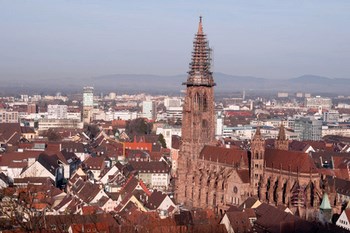 Freiburg is a city in Baden-Württemberg in the far southwest Germany near the border with both France and Switzerland.It has a population of 229,144 (2011) inhabitants. The city is located in the beautiful setting surrounded by mountains, situated on the western edge of the Black Forest, a wooded mountain range in Baden-Württemberg, on the River Dreisam and at the foot of the Schlossberg.
Freiburg is a university. Approximately 30,000 students study at the Albert-Ludwigs-Universität from 1457.
It is located in the heart of a major wine region and wine tourism is prevalent in the region. Freiburg is the gateway to the Black Forest is a popular mountain area with more than 70 peaks over 70 meters, green valleys, vineyards and lakes, with a pleasant and sunny climate.
Germany's longest cable car at 3.6 km walk from Günterstal up to a nearby mountain called Schauinsland.
Freiburg's prides itself Freiburg Minster, a cathedral from 1330 with an impressive tower at 116 meters. The Augustinerplatz is one of the central squares in the old town with plenty of restaurants and bars, including the local brewery Feierling that has a "bier garten" (beer garden) which is very popular in the long, warm summer evenings.
In the center of the old city is Munsterplatz or Cathedral Square, Freiburg's largest square. It kept the market every day except Sundays.
Freiburg is an important cultural city with many theaters and orchestras.
The nearest major airport is EuroAirport Basel-Mulhouse-Freiburg in France 70 km south of Freiburg.