Car rental Hanover
Find the best price for car hire in Hanover. Goautos.com compares prices from well-known car rental companies in Hanover. Search now to see the best deals!
Hanover guide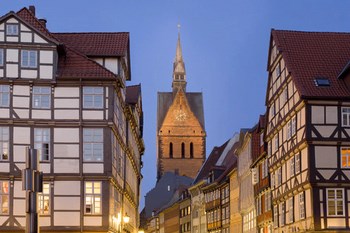 Hanover is located in northern Germany and the capital of the German state of Lower Saxony.The city lies on the River Leine and has approx. 520,000 inhabitants (2010). Hanover is the main industrial city in Lower Saxony – and also a central communications hub.
Hanover was founded around the year 900, and was a member of the medieval Hanseatic League. For a period in the 1800s the city was the capital of a small kingdom (with the same name as the city).
As in so many other German cities were also the old town (Altstadt) in Hanover heavily destroyed during the 2nd World War. Just a few of the old buildings have been reconstructed in its original style. This includes the Altes Rathaus from the 1400s and Marktkirche from the 1300s. However, there is a huge variety modern buildings in the city. One of these is the Neues Rathaus in 1913.
In 2000, EXPO place in Hanover. In this connection, it raised several exhibition halls – and periodically arranged various large booth and exhibits here, including Die Deutsche Messe Industry (CeBIT). Otherwise, Hanover offers a number of interesting museums and cultural institutions. One of the most important is the Landes Theater, which also has a large opera stage.
Hanover is also a city with many parks and green spaces. Among these are Herrnhäuser Gärten very well attended – perhaps primarily because of the exceptionally beautiful baroque facility – which includes several spectacular fountains, statues, caves and small castles. Also Berggarten is a popular tourist destination, featuring both swimming and water sports. And Eilen Ride-Forest is a zoological garden is an important part of the park.
An annual event that is distinctive of Hanover, is the "Schützenfest". It is a celebration that lasts for ten days, collecting much of the city's population around marquees, beer gardens and various cultural activities.
The nearest airport is Hanover-Langenhagen Airport, located 10 miles north of downtown.