Car rental Jerusalem
Find the best price for car hire in Jerusalem. Goautos.com compares prices from well-known car rental companies in Jerusalem. Search now to see the best deals!
Jerusalem guide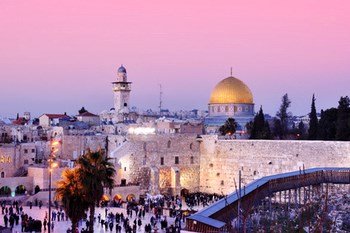 Jerusalem is Israel's self-proclaimed capital and largest city, situated on a plateau (803 m) near the mountains of Judah – between the Mediterranean Sea and the Dead Sea. The city has about 725,000 inhabitants (2009), 70% of residents are Jews.
Jerusalem is one of the world's oldest cities, and it is found the remains of settlements from 4000 BC Kr.
The city has many historical and cultural sights, and is known as a center of religions Judaism, Islam and Christianity. The city hosts the 1204 synagogues, 158 churches and 73 mosques. Old City of Jerusalem is surrounded by a 12 meter high wall, and some of the most famous sights are the Temple Mount to the Western Wall, Al-Aqsa mosque from 600's and the Dome of around 700 Both these mosques located on the Temple Mount, where it is assumed that Solomon's Temple stood. The district is characterized by market trading, shops, hotels and restaurants / cafes. The old town is a UNESCO World Heritage Site.
The modern city of Jerusalem (western part), has a more European feel and is Jewish. This is a major commercial and administrative center where such the Israeli parliament – the Knesset – is located.
The city has a number of interesting museums – including an archaeological museum where the famous Dead Sea Scrolls are exhibited.
Nearest international airport is Ben Gurion International Airport, located 57 km northwest of Jerusalem.