Car rental Karlovy Vary
Find the best price for car hire in Karlovy Vary. Goautos.com compares prices from well-known car rental companies in Karlovy Vary. Search now to see the best deals!
Karlovy Vary guide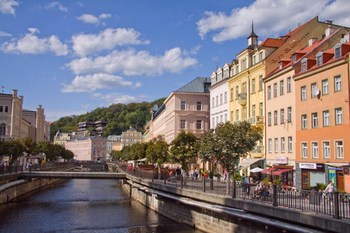 Karlovy Vary (German: Karlsbad) is a city situated in western Bohemia in the Czech Republic, 120 km west of Prague.It has 53,708 inhabitants (2008). It is historically famous for its hot springs and is one of the world's most famous spa towns. Karlovy Vary is the Czech Republic's second most visited tourist destination after Prague.
Spa business began as early as 650 years ago, but it became a popular tourist destination in the 1800s, when even international celebrities came visiting for spa treatment.
Karlovy Vary has a variety of heat sources. The most famous is Sprudel throwing 72 ° C intermittent water 11 meters into the air. Karlovy Vary particularly sought by people with digestive and metabolic diseases. It is also recommended by those with more serious diseases like cancer. The city has numerous spa and bath houses and hotels offering first-class services related to traditional spa treatments.
The city is also known for the Karlovy Vary International Film Festival and the popular Czech liqueur Becherovka Karlovarská. The famous glass manufacturer Moser Glass is located in Karlovy Vary. The city has also given its name to the famous delicacy Karlsbad-yolk candied in hot syrup. Karlovy Vary has been used as the location for numerous films.
The Karlovy Vary International Airport is located in the village of Vrata Olšová 6 km southeast of downtown. The distance to Prague Václav Havel Airport is about 130 km.