Car rental Kaunas
Find the best price for car hire in Kaunas. Goautos.com compares prices from well-known car rental companies in Kaunas. Search now to see the best deals!
Kaunas guide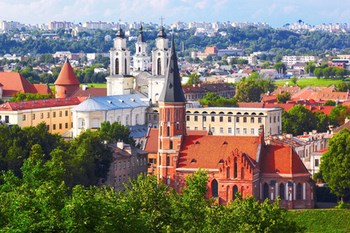 Kaunas is Lithuania's second largest city, and it is centrally located in the country where the rivers Neris and Nemunas coalesce.Its population is approximately 364,000, and the city is a major transport hub – including with the country's second largest international airport.
Kaunas was founded in the 1000's and was in the Middle Ages both a busy commercial center and a strategically important fortress. The city, however, has throughout history been subjected to a series of devastating attacks – the last time during the 2 World War. A period (1920-1940) was Kaunas Lithuanian capital.
The modern Kaunas has focused on culture and education – and here there is the agricultural college, technical college and several public schools. The city also has several theaters, museums and theaters, as well as a beautiful and well visited botanical garden.
Through the center runs the 2 km long "Frihetsavenyen" (Laisves aleja), and by extension, we find the old town of "Arch Cathedral" and the town hall from the middle of the 1500s (which is dominated by an elegant tower). Many of the buildings in the old town, located along the narrow, picturesque streets, medieval, and the district as a whole represents the main attraction in Kaunas.
Other sights include the two popular museums Vytautas the Great Military Museum, which is housed in a building in the Art Deco style, and the Lithuanian sports museum.
The nearest airport is Kaunas International Airport, located 15 km northeast of the city.