Car rental Kingston
Find the best price for car hire in Kingston. Goautos.com compares prices from well-known car rental companies in Kingston. Search now to see the best deals!
Kingston guide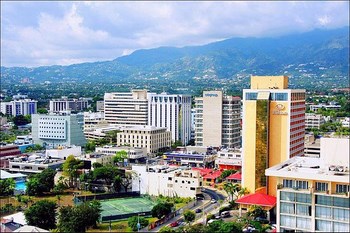 Kingston is the capital and largest city of Jamaica, which is one of the West Indian islands in the Caribbean Sea.The city is located on the southeast coast of the island and has about 600,000 inhabitants (2010). Kingston has a large and important port, Port Royal, and a long sandbank (Palisadoes) connects the port and international airport. Kingston is also Jamaica's main education center, and in 1948 the University of the West Indies founded here.
The city's name was originally Port Royal, the port that is still called. After a major earthquake, the city was founded again in 1693 by English colonists – and then got its present name. Also later, the city has been hit by earthquakes, including in 1907 when over 1,000 people were killed. In 1872, the city administration official seat of the British colonial rule, and the retained capital status when Jamaica became independent in 1962.
Kingston is divided into an old and a new district – Old Kingston and New Kingston. Many of the city's most popular attractions are located in New Kingston, especially along Hope Road. Jamaica is the reggae music's homeland, and Kingston's most visited attraction, Bob Marley Museum, located on Hope Road. Nearby you can also visit the Hope Botanical Gardens.
Other attractions include Devon House – which is also surrounded by a beautiful park, National Gallery of Jamaica – and Lime Cay beaches and Hellshire.
The climate in Kingston is tourist friendly, with lots of heat and sun. Mountains Blue Mountains gives the city a convenient shield against rain and tropical storms.
The city has two airports, Kingston Norman Manley International Airport, located a 15 km south of the city, and the smaller domestic airport Tinson Pen Airport.