Los Angeles Car Rentals
Compare prices and find cheap car hire in Los Angeles from well-known and local car hire companies. Insurances and unlimited mileage are included. Save up to 70% on car rental in Los Angeles through us.
Los Angeles guide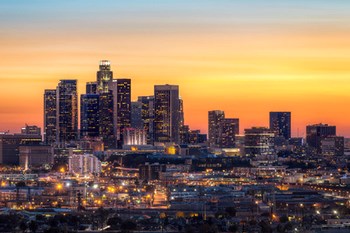 Los Angeles is the second largest city in the United States and is located in the south of the state of California – close to the Pacific Ocean. The city is located approx. 200 km north of the border with Mexico.
Los Angeles has 3.8 million inhabitants, while the metropolitan area has a population of about 17 million.
Within the city limits of Los Angeles are several independent cities – including the 2015-16 financial year. Beverly Hills, Culver City and Santa Monica. Los Angeles is an important transportation hub and is known for its film and television production. The city is also a very popular tourist destination.
Attractions
The cityscape is characterized by wide avenues and large parks. North of downtown is the movie city of Hollywood, where you can walk along Hollywood Boulevard and see the star-studded sidewalk "Walk of Fame".
Other tourist attractions in Los Angeles include: Universal Studios – where visitors can learn more about the film industry, Science Center – with interactive exhibitions, Moca – Museum of Contemporary Art – with changing art exhibitions, "Museum of Tolerance" – multimedia museum with emphasis on racism and prejudice in USA as well as Griffith Park – large parkland where one can also visit the zoo "LA Zoo".
The city has a natural history museum, African-American museum, aquarium, botanical garden as well as beautiful coastal beaches. A new public museum of contemporary art opens in 2013 in Los Angeles and will be called "The Broad."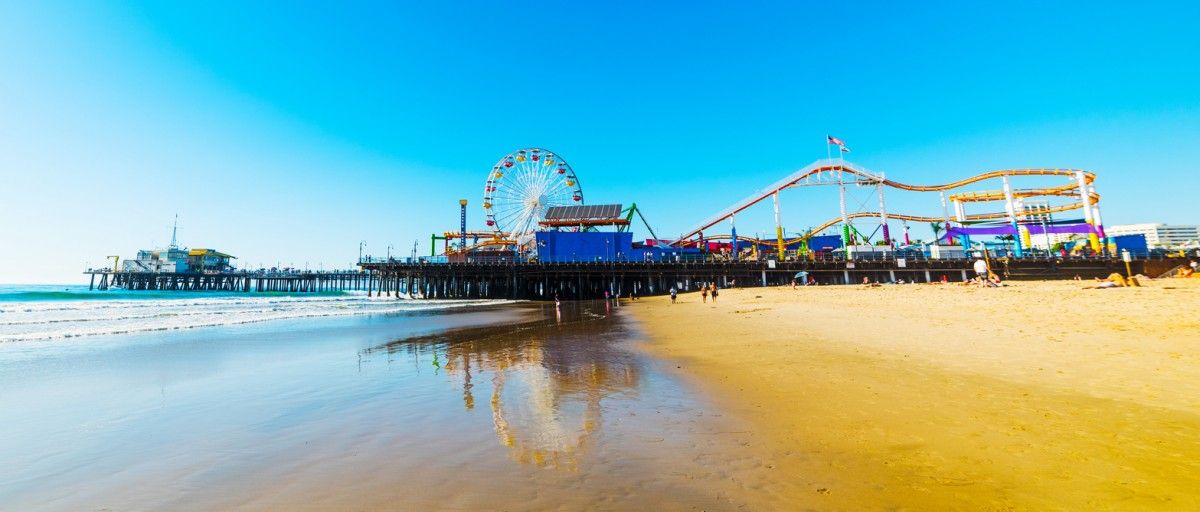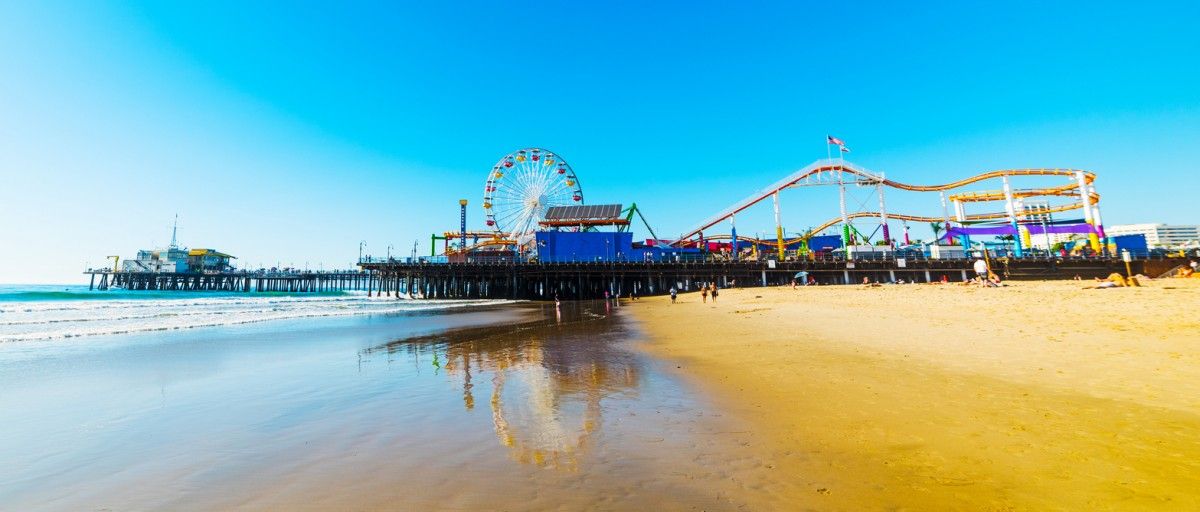 Explore Los Angeles with car hire
While there's more than enough to get to in Los Angeles itself, it's a good idea to get some of the surroundings even when you're there. You'll probably still rent a car here, so why not take the opportunity? This part of California offers many picturesque small towns along the coast, not to mention a large selection of beautiful beaches. In addition, there is much to experience also inland. Here are some suggestions for driving routes with Los Angeles as a starting point.
Please note that since the city is enormously large to the extent, we have chosen to use LAX Airport as a starting point for information on mileage and time use.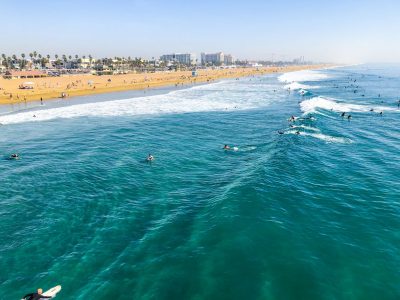 Huntington Beach – Surf City USA
This city is located just off the border of Los Angeles, heading south toward San Diego, and out on the coast. It is characterized by a 15-kilometre-long sandy beach that goes past the entire city centre, hence the culture that is focused around especially surfing. That surfing is an important ingredient is reflected in the fact that you find your own surfing museums in the city, there are world championships here, and the name of the city itself is just Surf City. This has legendary The Beach Boys written songs about, and you've certainly seen the city and the beach in several Hollywood movies.
From LAX to Huntington Beach, it's about 24 miles. You drive in the city all the way, but normally get there fastest by using I-405 (Interstate 405). Then the driving time will be about 40 minutes.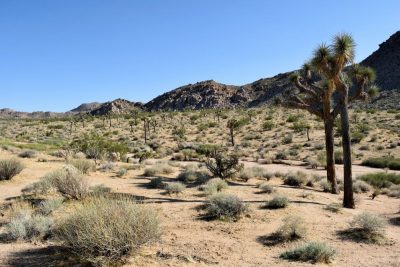 Joshua Tree National Park – Unique and beautiful natural area
In this national park, the two deserts meet Mojave and Colorado. This meeting helps the park have a unique plant and wildlife, and a landscape you can't find. Here, too, the wood that gives the park its name grows. In Latin is the term Yucca Brevifolia, and on a daily basis we know it as the Yucca palm. In Joshua Tree National Park, many of the specimens are centuries old and can be up to around 2.5 meters high. Guests can stay overnight in several places in the park, or just stop by for a day trip. In all cases, consider visiting one or more of the visitor centers located in the park.
From the airport in Los Angeles (LAX), it's about 145 miles to Joshua Tree National Park. If you drive without a stop along the way, you will spend about 2 hours and 30 minutes.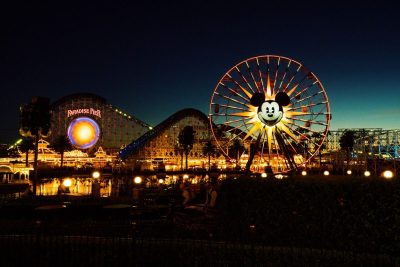 Disneyland – The world's most famous amusement park
Walt Disney himself was involved when his company built Disneyland in the Anaheim neighborhood of Los Angeles. The theme park has been in operation since 1955 and is one of the most important landmarks and sights of the city. Since its opening, nearly 800 million people have stopped by to visit. Today, it is not only the cartoons of the Disney Group that are paid attention here, but also themes from, among other things, the Star Wars films. All of the activities you can try are particularly accomplished. Here, for example, you get a trip in hyperspace with the Millenium Falcon, and the experience feels almost too realistic. A visit to Disneyland when you're in LA is a must, no matter what age you're at.
From LAX to Disneyland, it's about 34 miles and a driving time of about 30 minutes.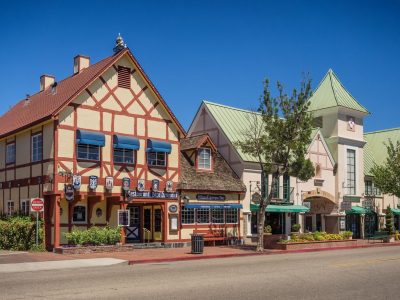 Solvang – A small piece of Denmark
The small town of Solvang is located just northwest of Santa Barbara, with only 5200 inhabitants. It was established in 1911 by a gang of Danes, and many who live here today still have a strong connection to the country their ancestors emigrated from. The language has gone a long way, and you'll find people in Solvang who speak Danish, albeit with a strong American accent. The architecture of the city is a mix of Danish traditions, and the building style you see in other small towns in California. Like many other places in the Santa Barbara area, there are many vineyards near Solvang, which together with tourism makes its mark on the city. Here you can eat Danish food and tasted good California wines in the same slap.
From LAX to Solvang, it's 130 miles. Without stopping, the drive will take about 2 hours.
If you drive along the coast there are a number of beautiful small towns suitable for a break from driving, and you will get great views of the sea on much of the stretch.
Las Vegas – An iconic drive from LA
It's quite easy to stop by Las Vegas when you're in Los Angeles and have a rental car. Although the drive is longer than most other excursions, it is worth it. The city is entirely built with a focus on entertaining the visitors. Casino and gambling are of course central, but there is also much, much more going on here. In Vegas you can see many world famous shows and artists, you can dine at the most amazing restaurants, and you can enjoy a luxury life you can barely find any other. On the road between the two iconic cities, you also have a lot to deal with if you have time. The route goes by a long list of sights of all kinds, such as the Installation Seven Magic Mountains, the Car Museum Off-Road Motorsports Hall of Fame, and the World's Tallest Thermometer.
From LAX to Las Vegas, it's 290 miles. With no stops along the way, the driving time will be about 4 hours and 15 minutes.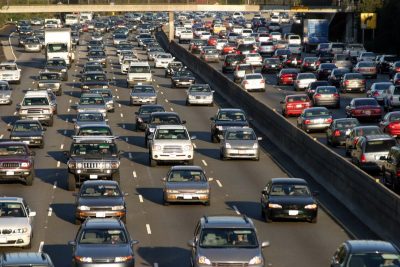 Parking and traffic with car hire
The availability of parking in the streets of Los Angeles varies greatly according to where in the big city you are. In some places it is free, and in some places you pay on vending machines and parkometers. Most parking spaces along the streets are time-limited, in which case will be signposted. There are more than enough parking garages and outdoor valet parking. It is also often possible to leave the car in a hotel, even if you do not live there, but then you normally have to pay a fee.
It's both easy and hard to drive in Los Angeles. The difficult thing is preferably the fact that the city is enormously large, both in the number of inhabitants and in terms of extent. The simple thing is that the buildings and streets are square. It is almost impossible to drive wrong if you know where you are going, the signage is good, and most of the infrastructure is planned in relation to car traffic. However, please note that in LA, not many people use public means of communication. The vast majority drive a car, which is why there is often heavy traffic, especially on the motorway (Freeway and Expressway).
Airport
There are several airports serving Los Angeles and the surrounding area, but the vast majority of traffic passes through Los Angeles International Airport, usually abbreviated LAX. It's LAX you arrive if you arrive on an international flight, and usually even if you're flying from somewhere else in the United States.


LAX is considered the third most congested airport in the world, with nearly 90 million passengers a year. It has a total of 9 terminals, and is often described as quite stressful. At the same time, it is also very centrally located, with a relatively short distance to places like Beverly Hills, Malibu, Santa Monica and Hollywood.
The offices of the car hire companies are located outside the terminal buildings. Guests can get there with their own shuttle buses that pick you up outside the terminal building you arrive at. The buses are marked in relation to which company to rent a car from. As of today, there are 13 international and American companies offering car hire at LAX.
From LAX to Hollywood, it's about 23 miles (38 kilometers) if you drive the fastest road, and the driving time will be about 30 minutes.
From LAX to Santa Monica, it's about 11 miles and a driving time of about 20 minutes.
From LAX to Malibu Beach, it's about 17 miles and a driving time of about 35 minutes.
From LAX to Beverly Hills, it's about 12 miles, and a driving time of about 25 minutes.