Car rental Lucerne
Find the best price for car hire in Lucerne. Goautos.com compares prices from well-known car rental companies in Lucerne. Search now to see the best deals!
Lucerne guide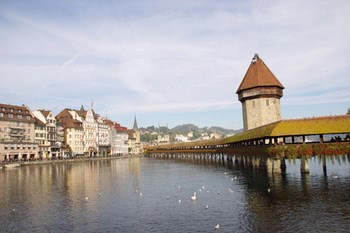 Lucerne is the French name of the city which is probably better known by its German name – Lucerne. The city is located in north Switzerland, and is the capital of the canton of Lucerne.The city is situated where the river flows into the Reuss   Vierwaldstätter Lake.The city of Lucerne / Luzern has about 60,000 innbbyggere (2010), but it is estimated the entire metropolitan area with a population increase to about 200,000.
Lucerne / Luzern is an important railway hub and tourist influx is significant.
Its history goes back to 700 AD, when it was founded a Benedictine monastery here, and throughout the Middle Ages, the town grew around the monastery – and became an important commercial center.
Among the attractions in Lucerne, we find the largest and most modern transport museum. It also contains a planetarium and a "Kosmorama". Otherwise Chapel mentioned. This was originally a covered wooden bridge, which was constructed in 1333 across the river Reuss. Inside the superstructure can see a lot of paintings from the 1600s, which portrayed the city and its history. It was thus a major cultural catastrophe when the bridge burned down in 1993. A copy was later built, so you can once again get a feel of this unique building.
Another type of attraction is the gardens "Eiger". It is built around a giant deposition from the ice age, and the facility also includes a museum. In a rock wall in this impressive facility, one can see the so-called "Lion Monument" – a memorial to the fallen Swiss Guards aver carved out of a large sandstone block. Model of the monument was designed by the famous Danish sculptor Bertel Thorvaldsen.
And if the need for an aerial tour while in Lucerne / Luzern, one can take tissue from the suburb of Kriens path to the top of the mountain Pilatuskulm, located at a height of 2070 m
The nearest airport is Zürich-Kloten International Airport, located approximately 68 km north of the center of Lucerne.