Car rental Manaus
Find the best price for car hire in Manaus. Goautos.com compares prices from well-known car rental companies in Manaus. Search now to see the best deals!
Manaus guide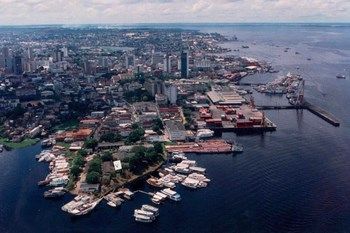 Manaus is a city located in northern Brazil and the capital of the state of Amazonas. It is located on the Rio Negro is not far from the confluence of the Amazon River. The city has a population of 1,861,838 (2012) inhabitants.
The city was founded in 1669 and elevated to the city in 1832 with the name of Manaus which means "mother of the gods." It was the center of the rubber boom in the late 1800s, and during the period were also built an opera. Now the gum lost its importance, but other industries such as cellular factories have come since Manaus is a free economic zone.
Because of its location in the Amazon Rainforest Manaus attracts a large number of tourists every year who come to experience the wonderful vegetation and wildlife. Many river excursions into the rainforest starts from the town. A popular excursion is to visit the place where the black waters of the Negro River meet the brown waters of the Solimões River without interfering.
Manaus also has many large parks with natural forest. The largest urban forest in the world where the University of Amazonas in Manaus, which was founded in 1909.
18 km from downtown is Ponta Negra beach is also a popular nightlife area. Among the attractions are a greenhouse with orchids, a zoo, and the well-preserved forest.
The city has a rich cultural life. Each year in October held Boi Manaus Festival is a great celebration of Northern Brazilian culture.
Brigadeiro Eduardo Gomes Manaus International Airport is located 14 miles north of downtown.