Car rental Miami
Compare prices and find cheap car hire in Miami from well-known and local car hire companies. Insurances and unlimited mileage are included. Save up to 70% on car rental in Miami through us.
Miami guide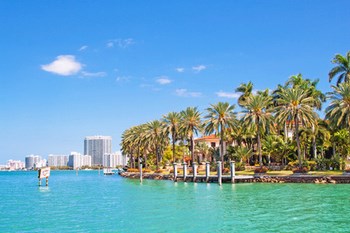 Miami is located on the southeast coast of Florida on the Atlantic Ocean, more specifically in the southern part of the so-called "Gold Coast" ("Gold Coast"). The city has 409,000 inhabitants (2020), while the metropolitan area has a population of 5.5 million.
Miami is Florida's largest metropolitan area, and an important tourist hub – which receives as many as 10 million visitors a year. It is also one of the United States' most important port cities – and Miami is the starting point for cruise boat traffic on the Caribbean Sea.
The city is an industrial center and is a leader in finance, trade, culture, media, entertainment, arts and international trade.
Attractions
A major drawcard for tourists is Miami Beach – which is one of america's most famous seaside resorts. Miami Beach is 3.7 mi northeast of downtown, where there are wide and welcoming beaches as well as a seafront promenade – where luxury hotels, restaurants and nightclubs are located side by side.
Miami also has a number of theaters, museums, opera, parks and music venues, and a major tourist attraction for the whole family is the "Miami Seaquarium" – an aquarium where you can also watch dolphin shows. There are also a number of art museums in Miami. In addition, the city has zoological and botanical gardens.


Explore Miami with car hire
Miami is joining Fort Lauderdale– and our recommended neighboring driving routes are as relevant as those you can read here. If places and sights like Key West, Everglades, Disneyworld, Kennedy Space Center and oceanography interest you, please read about this in our Guide for Fort Lauderdale. Here are some other exciting driving routes that are also popular in this part of Florida.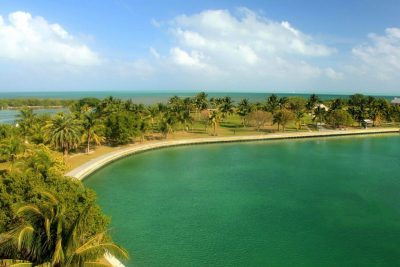 Biscayne National Park – The best diving area in the United States
Located just south of Miami, this national park consists almost entirely of oceans. As much as 95% of the dedicated area is located off the coast. Biscayne is also the name of the bay that makes up the park. Here you will find what many believe is the best area for diving and snorkeling in the United States. Inside the bay there are coral reefs that attract fish and other marine animals, including the American manatee (sea cow), sea turtles,alligators and American crocodiles. If you want to experience this natural gem, it is best to drive to one of the camps or tourist centers. Most arrange guided boat trips,kayak tours, they rent out diving equipment, and several have facilities for accommodation.
From Miami to Homestead Bayfront Park in Biscayne National Park, it's about 40 miles. The driving time at normal traffic is approximately 45 minutes.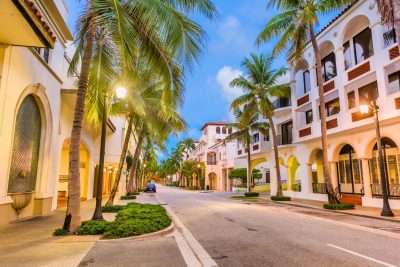 Palm Beach – Billionaires' Resort
Palm Beach is the island located off the mainland and which you can reach via the bridges that depart from the neighboring city of West Palm Beach. The place is traditionally considered an exclusive place of residence for celebs and rich people. Here there are many large and impressive mansions, luxury hotels, historic buildings, and not least, a beautiful beach that stretches from end to end on the oblong island. In addition to swimming and sunbathing, it is the luxury life that is the focus of Palm Beach. The restaurants are good, the shopping exclusive, and the atmosphere quite relaxing. There are nice parks here, golf courses in very good condition, and many activities for those who like to explore the sea outside.
From downtown Miami to Palm Beach it is about 115 kilometers. You drive through the contiguous cities all the way, and spend about 1 hour and 10 minutes.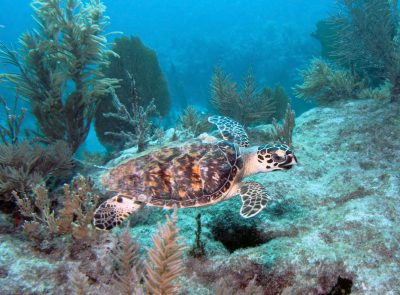 Key Largo – Diving paradise near Miami
Key largo is the first major island you reach when you leave the mainland on your way to Key West. This is one of Florida's best places for those who like to swim, snorkel and dive, look at sea creatures, swim with dolphins,and enjoy endless and beautiful beaches. Besides fish and other wildlife, there are coral reefs, wrecked boats, statues and other notable to look at the seabed off Key Largo. This is also the area to take a boat trip from, also if you want to try your luck fishing. Fish and seafood are of course central to the restaurants in Key Largo. Here you will find a rich selection of good eateries, with delicious food based on fresh ingredients.
From Miami to Key Largo it is about 110 kilometers. The driving time will be approximately 1 hour and 15 minutes.
St. Augustine – A bit of ancient Europe
St. Augustine is the oldest European settlement on the U.S. mainland. Here came the Spanish admiral Pedro Menendez de Aviles in 1565, and founded what became the capital of the Spanish part of Florida. Later, this city was also governed by English rule, before Florida became part of the United States. The historic buildings of the city are therefore from both European eras. The main attraction is the fort from the 1670s,castillo de San Marcos. In St. Augustin you can also visit the fountain of youth, Ponce de Leon's Fountain of Youth, stroll in small streets that are almost unchanged since the 17th and 18th centuries, and you will find several interesting museums in the city.
It's about 305 miles from Miami to St. Augustine. The drive without stopping will take approximately 4 hours and 30 minutes.
You pass many other exciting places on the road, such as West Palm Beach, Orlando and Daytona Beach.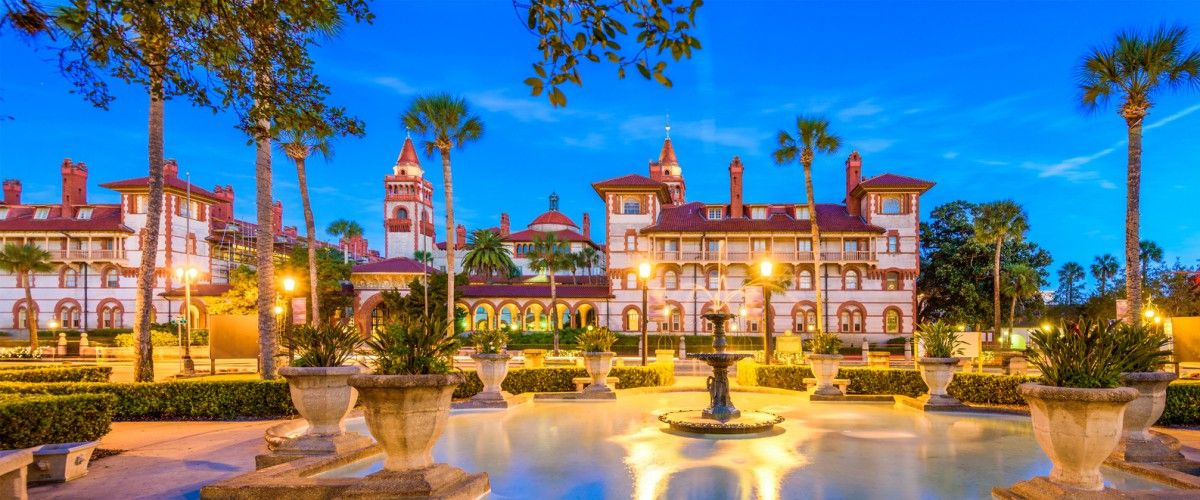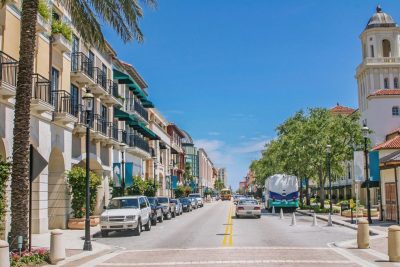 Parking and traffic with car hire
When you are going to park in downtown Miami, it is usually best to put the rental car in a guarded garage. These you will find very many of, but please note that prices can vary greatly. The largest hotels are also a good option. Most have secure parking spaces and are open to people who do not stay at the hotel.
There is a lot of car traffic in Miami, as you would expect in most American cities. During rush hour, of course, it is most difficult to get there, especially on the highways that go in and out of the city centre. Generally speaking, you should pay more attention when driving a car on American roads than you might be used to. In the United States, traffic accidents occur somewhat more frequently than in many European countries, and Florida is at the top of the injury statistics.
Airport
Miami International Airport is one of two main airports in this part of Florida. The other is Fort Lauderdale-Hollywood International Airport, and where you arrive depends entirely on which airline you use. Both airports serve companies such as Air France, British Airways and Lufthansa.
The airport in Miami is among the 40 busiest in the world. It serves approximately 46 million passengers a year, and has a particularly high amount of traffic going to South America and the rest of the United States. There are three main terminals here, North Terminal (blue), Central Terminal (yellow) and South Terminal (red, respectively).
Car hire companies are bundled into what is called MIA Rental Car Center. The centre is located on the third level between the Dolphin and Flamingo garages. If you use the roller streets marked "Skyride", you can easily get there. As of today, there are 15 car hire companies located at the airport in Miami. This is virtually all the well-known international players (Hertz, Budget, Avis, Sixt, and more), as well as some American companies.
Miami International Airport is located in the city itself, and only a few kilometers in the airline from the coast. The distance to Downtown Miami is about 14 kilometers, with a driving time of 10 to 15 minutes.