Car rental Mulhouse
Find the best price for car hire in Mulhouse. Goautos.com compares prices from well-known car rental companies in Mulhouse. Search now to see the best deals!
Mulhouse guide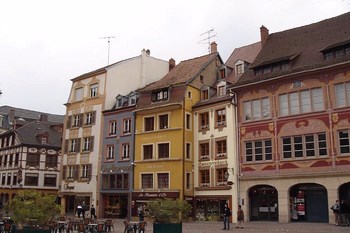 Mulhouse, which is also known under the German name Mulhouse, a city located far east of France – Specifically by the river Ill and the Canal du Rhône au Rhin.This is the largest town in the department of Haut-Rhin and the second largest in the Alsace region. The city has approx. 112,000 inhabitants (2010), but it is estimated the suburbs, the figure rises to about 240,000.
Mulhouse is first and foremost an important industrial city, where we among other things For Peugeot car factory. Moreover, the city has long textile industry traditions.
Its history has at times been turbulent, and it has been alternately French and German – which still characterizes the culture and architecture. Since 1919, the town belonged to France, but it still has a large German-speaking population.
Among the wonders of Mulhouse, there are several interesting museums, including a government car museum (Musée National de l'Automobile de Mulhouse) and France's largest railway museum (Musée Français du Chemin de Fer). A visit to the world's largest textile museum (Le Musée de l'Impression sur Etoffes de Mulhouse) is also a rewarding experience. A total of 6 million different patterns are gathered here! In addition, the city also has its own general history museum.
Among the other attractions must especially the Zoological and Botanical Gardens mentioned.
The airport Basel-Mulhouse-Freiburg Airport (which serves the three towns of Basel, Mulhouse and Freiburg) is located 32 miles southeast of Mulhouse city center