Car rental Natal
Find the best price for car hire in Natal. Goautos.com compares prices from well-known car rental companies in Natal. Search now to see the best deals!
Natal guide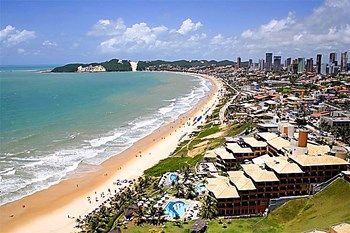 Natal is located on the northeast coast of Brazil and the Atlantic Ocean, and is the capital of the state of Rio Grande do Norte. The city has about 804,000 inhabitants, while the metropolitan area has a population of 1.3 million (2011). Natal is located at the mouth of the river Potengi (Potenji).
The city is known for its beautiful sandy beaches and dunes, and according to NASA, the air in the cleanest in all of South America. Tourism is the main industry of the city, but also industrial production is significant. Natal is also a regional center for the oil industry and an important transport hub.
Natal has a tropical climate with an annual average temperature of 26 degrees C. The fresh sea breeze makes the climate very pleasant.
Some of the most popular tourist attractions include fortress "Forte dos Reis Magos" from 1599 – which is the oldest and most important historical building in Natal, the theatre "Alberto Maranhao" from 1898, the beach "Ponte Negra" just south of downtown, and the city's oldest church, "Natal Cathedral" from 1862.
In the city park "Dom Nivaldo Monte" are a monumental towers – designed by the Brazilian architect Oscar Niemeyer.
Other attractions include Natal the impressive bridge "Newton Navarro" over Potengi River. The bridge is 1.8 kilometers long and 100 meters high.
In addition to the sun, swimming and beach city can offer visitors great shopping, a vibrant nightlife and a number of monuments and museums. Natal also has a great aquarium and a natural science museum.
The airport Augusto Severo International Airport is 15.3 kilometers southwest of downtown.