Car rental Niagara Falls
Find the best price for car hire in Niagara Falls. Goautos.com compares prices from well-known car rental companies in Niagara Falls. Search now to see the best deals!
Niagara Falls guide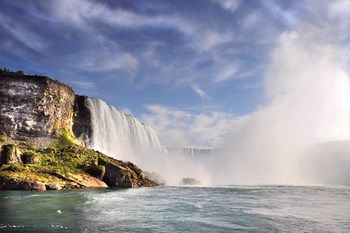 Niagara Falls is a group of three waterfalls in the Niagara River that flows from Lake Erie and Lake Ontario. Niagara Falls is located on the border between USA and Canada between Ontario and the State of New York.The falls are not particularly tall, but very wide, and leads as six times more water per second than Victoria Falls. Niagara comes from Native American and means "thunder water '
Horseshoe Falls is the waterfalls located on the Canadian side with a total width of 640 m and a height of 54 m They are separated by Goat Island and 94% of the water passing through the Horseshoe Falls. The right of the waterfall located on the American side of Niagara Falls is 305 m wide and 50.9 m high.
The international boundary line was originally drawn through Horseshoe Falls already in 1819, but the boundary has long been in dispute due to natural erosion and construction. In 1929, Canada and the United States signed an agreement to preserve the falls since a large part of the flow goes to the production of hydroelectric power. Heavy erosion, 0.6 to 3 meters per year, move falls further and further south towards Lake Erie.
At night it is popular to admire the falls from the Canadian side because artificial lights illuminate both sides.
On the American side, there are tour operators that leads hikers to a point below the waterfall called Bridal Veil. On the Canadian side there are platforms that offer a spectacular view of the Falls. It's observatories with equipment that gives the impression of being under the waterfall.
The nearest airports to the Niagara Falls Airport but it is very small. Buffalo-Niagara International Airport is 40 miles from the falls.