Car rental Priština
Find the best price for car hire in Priština. Goautos.com compares prices from well-known car rental companies in Priština. Search now to see the best deals!
Priština guide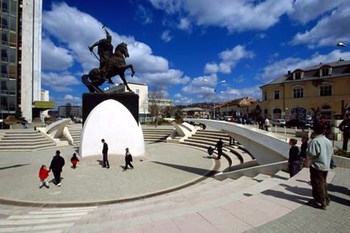 Pristina is the capital of the semi-independent republic of Kosovo, and has approximately 198,000 inhabitants (2011).The majority of them are Albanians. The city is located in the eastern part of central Kosovo.
The regional parliament and the UN, who formally controlled Kosovo since the war in 1999, has its headquarters in the city.
The private sector is characterized by a number of textile and food industries. It also produced some crafts here.
The city suffered extensive damage during the NATO bombing in 1999, but there are still a number of historical buildings in Pristina.
Among the main historical attractions include Sultan Fatih Mosque from 1461 and a Turkish bath, also from the 1400s. Otherwise, the city's famous clock tower "Sahat Kulla" from the 1800s mentioned.
There are also several interesting museums in Priština – notably the ethnographic museum "Muzeum Etnologjik Emin" and Kosovo Museum.
Of more recent interest is "New Born" monument, which has become a landmark in the city. It was unveiled in connection with Kosovo's declaration of independence 17 February 2008. It must also be mentioned that a large Roman Catholic cathedral under construction in Priština. It is named after Mother Teresa. Price Tina's central boulevard is also named after her.
Priština International Airport is Kosovo's main airport. It is located 22 km southwest of downtown.