Car rental Recife
Find the best price for car hire in Recife. Goautos.com compares prices from well-known car rental companies in Recife. Search now to see the best deals!
Recife guide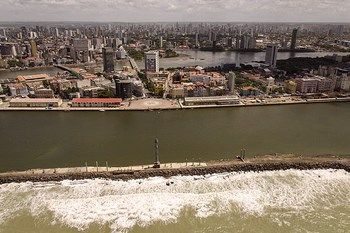 Recife is the capital of the state of Pernambuco in Brazil.It is located on the easternmost point of Brazil's northeastern Brazil where rivers Beberibe and Capibaribe meet before emptying into the Atlantic Ocean. Its population is 1,555,039 (2012) inhabitants. Recife means reef in Portuguese and is named because of its coral reefs.
The colonial old town is famous for its many canals and 50 bridges, and is called Brazilian Venice.Old Town is located in the downtown area where also most of the historic and public buildings in the town. It is also the harbour itself, one of the most important in the Americas. Recife is surrounded by tropical rainforest, and especially the western part of the city a green lung.
The most modern and touristic part of the city lies in the south. It is built around the beautiful natural beaches and there is a good selection of hotels, restaurants and bars.   The main beaches are Manibu, Pina and Brasília Teimosa. Also the airport is here. Shopping Center Recife is a huge shopping center with nearly 500 stores and all 10 theaters.
But it is not only tourism Recife feed on. There are thousands of companies and a part of town called "the digital port" because of all software companies located here.
Recife is the city for those who want to experience the Brazilian Carnival. Pre-carnival season starts in December with parades and music in the streets, while the real carnival starts the week before Ash Wednesday. Recife has a rich musical and several music festivals each year.
Recife International Airport is located 11 km outside the city center.