Car rental Sarajevo
Find the best price for car hire in Sarajevo. Goautos.com compares prices from well-known car rental companies in Sarajevo. Search now to see the best deals!
Sarajevo guide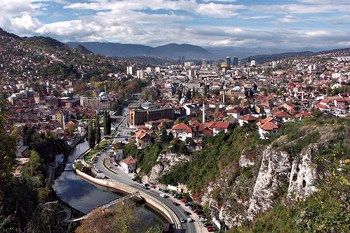 Sarajevo is the capital and largest city of Bosnia and Herzegovina, and is centrally located in the country. The city lies in a valley – on both sides of the river Miljacka – and is surrounded by mountains (which are part of the Dinaric Alps). Sarajevo has about 420,000 inhabitants, while the metropolitan area has a population of 664,000.
Sarajevo is the country's economic, commercial and cultural center and a major transportation hub. Although the city still bears the signs of the devastation of the civil war in the 1990s, Sarajevo has in recent years become a popular tourist destination.
Sarajevo is known for its religious diversity (Judaism, Christianity and Islam) and its multi-cultural society, which is reflected in the cityscape. The capital is home to numerous mosques – including Emperor from 1462, which is a major tourist attraction. This was the first mosque built in Sarajevo.
Other popular tourist attractions in the city include the catholic cathedral from 1889, the old town "Bascarsija", National Museum, the Turkish district, the History Museum, the Jewish Museum, Vrelo Bosne Park and Gazi-Husrev-Beg Mosque from 1531 – which is one of the finest examples of Ottoman architecture.
The nearest airport is Sarajevo International Airport – Butmir, located 12 km southwest of the city.