Car rental Seville
Find the best price for car hire in Seville. Goautos.com compares prices from well-known car rental companies in Seville. Search now to see the best deals!
Seville guide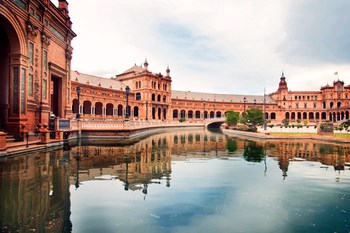 Seville is located in the southern Spanish region of Andalusia, and is the capital of the province with the same name as the town. Guadalquivir river runs through the city. Seville is a relatively large industrial city with approx. 700,000 inhabitants (2011). Although there are around 100 km from Seville until the end of the Guadalquivir (by city Sanlúcar), the city has a major port. (Vessels of up to 12,000 tons can accelerate this river).
Seville (Hispalis) was in Roman times, capital city of the province was then called Hispania Baetica. In the year 712, the city was conquered by the Arabs , until Ferdinand 3 of Castilla y Léon conquered it in 1248. After the discovery of America was Seville the most important port in the Spain, a position the city maintained until the 1700s.Seville got its own university in 1502.
Much of the architecture in Seville still bear the long Arabic (Moorish) era. The main structure in the Moorish style, the beautiful Alcázar from the 1100s. It is surrounded by beautiful gardens, which also characterizes the city as a whole. The old town is charming, with its narrow, winding streets – and here lies the mighty Seville Cathedral from the 1400s, which is listed on the ruins of an old mosque.
Other attractions include Columbus Library, the Archaeological Museum and several interesting art galleries.
In 1992 Seville organizer of the World Exposition (Expo 92). Many of the events taking place on an island in the Guadalquivir, and in that respect it was built several bridges. The largest of these, Allamillo Bridge, was designed by the famous architect Santiago Calavetra.
Otherwise Seville characterized by a large number of religious and secular parties, which attract many tourists to the city – and to be where the action in Rossini's world famous opera "Barber of Seville" (1816) happening.
The nearest airport is Seville-San Pablo Airport, located 12 km northeast of the city.