Car rental Thassos
Find the best price for car hire in Thassos. Goautos.com compares prices from well-known car rental companies in Thassos. Search now to see the best deals!
Thassos guide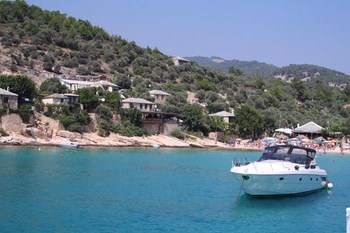 Thassos (Thasos) is a popular Greek island in the northern Aegean Sea, specifically off the coast of Thrace landscape. Landscape of Thassos is quite hilly, and the highest peaks are over 1000 m Highest towers Ypsario (1045 m). Thassos has an area of 380 km2 and a population of 14,000 (2010). The island's main town, also called Thassos, staying just over 3,000 residents.
Thassos has some agricultural and industrial activities, where the main products are honey, olives and wine. In addition, a portion of the island dwellers employed as fishermen, and that there are several rich marble mines there. One feels that there has been activity on Thassos marble since antiquity. The peninsula Aliki, which is protected, you can still see the remains of an ancient marble quarry.
Otherwise it is tourism that is the most important industry in Thassos. Among the main attractions are a number of great beaches and several monasteries and picturesque villages.
In Thassos Town is an interesting historical museum, and next to it is an excavation area where one can see the ruins of an urban district from ancient times. A path leads from here up to the ruins of the castle "Acropolis" (ca. 500 BC Kr.) And Temple "Athena" (ca. 600 AD Kr.), Both located on a hill with great views of the city.
The nearest airport is Kavala International Airport – "Megas Alexandros", located outside the city of Kavala on the Greek mainland.From here you can take a ferry out to Thassos. Travel time is 1 hour.