Car rental Tours
Find the best price for car hire in Tours. Goautos.com compares prices from well-known car rental companies in Tours. Search now to see the best deals!
Tours guide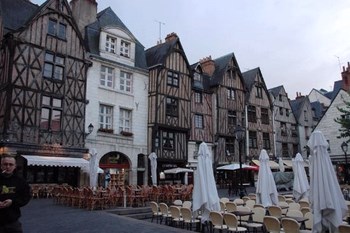 Tours is located in central France, ca. 240 km southwest of Paris – And is the capital of the Ministry of Indre-et-Loire.The city's main arteries –   Loire – is also France's longest river.Its population is around 140,000 (2010), and it is estimated suburbs – rising population to over 300,000.
Tours are both an important transport hub in this part of the country – and a major industrial city. This is particularly the chemical and pharmaceutical industries as well as textile manufacturing.
Tours is an ancient city, which had an important position in the Roman Empire during the first few centuries of the Christian era. Otherwise, 732 an important year in its history. Charles Martel defeated when a large Arab army between Tours and Poitiers. The city experienced a period of expansion during the late Middle Ages and the Renaissance, but experienced a significant decline in the late 1600's.
Much of the old buildings were destroyed during the 2nd World War, but a number of key buildings still avoided serious injury. Therefore Tours still boasts many architectural attractions from the heyday in the Middle Ages and the Renaissance – especially in the old city on the banks of the Loire. This includes the the Gothic Cathedral of St. Gatien – constructed in the period 1170-1547, St. Julien Church from the mid 1200's and Archbishop's palace from the 1600s that now houses an interesting museum of art.
The nearest airport is Tours Val de Loire Airport, located 6 km northeast of the city