Car rental Trollhättan
Find the best price for car hire in Trollhättan. Goautos.com compares prices from well-known car rental companies in Trollhättan. Search now to see the best deals!
Trollhättan guide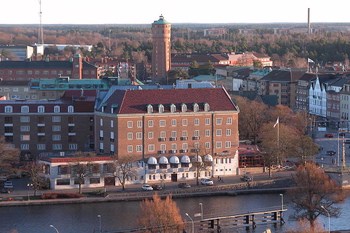 Trollhättan is in south Sweden, specifically in the southern end of Lake Vänern.The city is situated in Västra Götaland County – about 70 miles north of Gothenburg.
Trollhättan has approx. 47,000 inhabitants (2011), and Göta Älv runs through the city.
Trollhättan is first and foremost known for its Trollhättan canal, a canal and lock system that first opened in 1800, and has since been rebuilt several times. Trollhätte channel is 82 km long and with Göta Älv connects the Kattegat with Vänern. Between the lake and the sea is the height difference of 44 meters – which is forced through 6 locks. 4 of locks located near Trollhättan.
Two museums in town talks about the channel's history, and it is popular for tourists in Trollhättan to take a boat trip on the Göta River.
Other tourist attractions in the city include "Konsthall Trollhättan" – with exciting art exhibitions, SAAB Museum – an exhibition of new and old models, Trollhättan Church in the Gothic Revival style in 1862 and "Innovatum Science Center" – a center filled with technology in environment, media and manufacturing. The center has 4,400 square meters of interactive exhibits.
There are good swimming conditions in Trollhättan and bathing paradise "Öresjö" is popular in summer.
The airport Trollhättan – Vänersborg Airport is located 5 km northeast of downtown.
Nearest international airport is Gothenburg Airport – Landvetter, which is located 101 km south of Trollhättan (approximately 1, 5 hours of running time).