Car Rentals Sweden
Compare prices and find cheap car hire in Sweden from well-known and local car hire companies. Insurances and unlimited mileage are included. Save up to 70% on car rental in Sweden through us.
Sweden guide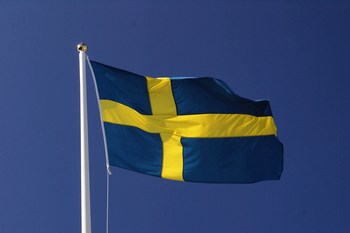 It is located in the eastern part of the Scandinavian Peninsula, and is bordered by Norway to the west and Finland to the northeast. Sweden has 9.4 million inhabitants (2011). The country has connections with Denmark in the southwest via the 16 km long "Øresund connection", which consists of a bridge and tunnel system by rail and motorway between Malmö and Copenhagen.
Sweden has maritime borders with Estonia, Latvia, Poland, Germany and Russia,and also has coastline towards Skagerak, Kattegat and Øresund to the west, Baltic Sea to the south and The Gulf of Bothnia and the Gulf of Bothnia to the east.
The large islands of Gotland and Öland in the Baltic Sea also belong to Sweden.
Sweden is divided into 3 different types of landscapes: the northern Swedish highlands – where the country's highest mountain Kebnekaise is located (2,111 m.a.s.l.), the mid-Swedish lowlands – with some of Sweden's largest lakes – among others. Vänern and Vättern as well as the southern Swede highlands and Skåne – which mostly consists of wooded flat landscapes.
The capital of Sweden is Stockholm, located on the east coast towards the Baltic Sea. Stockholm is the country's largest city with about 1.4 million. populations, and is also Sweden's main political and economic centre. Stockholm has a large shopping and cultural offering as well as a number of historical attractions.
Other major cities in Sweden are Gothenburg, Malmö, Uppsala, Linköping, Västerås and Örebro.
The country's main international airport is Stockholm Airport – Arlanda, but also Gothenburg Airport – Landvetter, Stockholm Airport – Skavsta and Malmö Airport have heavy traffic.


Driving in Sweden
The roads in Sweden are mostly always good to drive on, especially the motorways and other main roads. The main roads with two only one lane in each direction of travel usually have middle sections, making traffic safer. In addition, these roads often have wide lanes on the right side, making it easier to overtake. Swedish drivers are also consistently friendly and helpful in traffic, and it is common to lay out well to the right to let other cars by. Although Sweden is one of Europe's safest countries to drive in, you should pay extra attention outside the cities. There may be animals in the roadway, both from farms and from the forests. Large animals such as moose, deer and reindeer can cause serious accidents.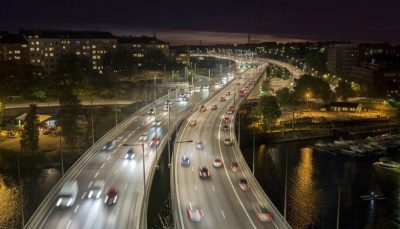 Traffic rules in Sweden
In Sweden, drive on the right side of the road.
Driving lights are mandatory on the car 24 hours a day.
All use of a mobile phone is prohibited when the engine is running, except hands-free.
It is mandatory with seat belt for driver and passengers.
Children under 135 cm should always use approved child restraint equipment suitable for the height and weight of the child.
Children should not sit in seats with activated airbag.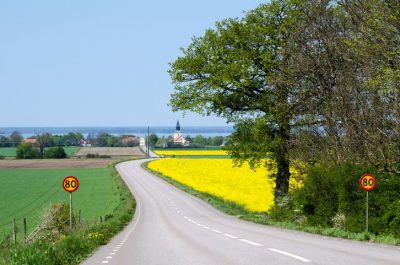 Speed limits in Sweden
In Sweden, speed limits vary according to a number of factors. These are the main rules:
Cities and towns: 50 kilometers/h.
Country roads: 70 kilometers/h.
Motorways: 110 kilometers/h.
If the above general speed limits do not apply, the limit will be marked with a sign:
In residential areas, close to hospitals, close schools and the like, the speed limit is normally set down to 30 kilometres/h.
Country roads often have a speed limit of 90 kilometres/h if the road has middle parts.
Newer high-quality motorways can have 120 kilometres/h as a speed limit.
Alcohol limit in Sweden
In Sweden, driving is not allowed if the blood alcohol level exceeds 0.2 (0.2 g/l). If you have an alcohol level above 0.2, it will result in fines and you risk the confiscation of your driving licence.
Recommended car hire car hire
In Sweden, the distances to popular places and sights can be long, but at the same time this is one of the safest and most comfortable countries to drive in. The most popular route is found in the south, and especially along the coast towards the Baltic Sea. It is also along the coast that the best thing about Swedish culinary traditions and culture comes into its own. Here are some suggestions for excursions that will give you a taste of the good life in Sweden.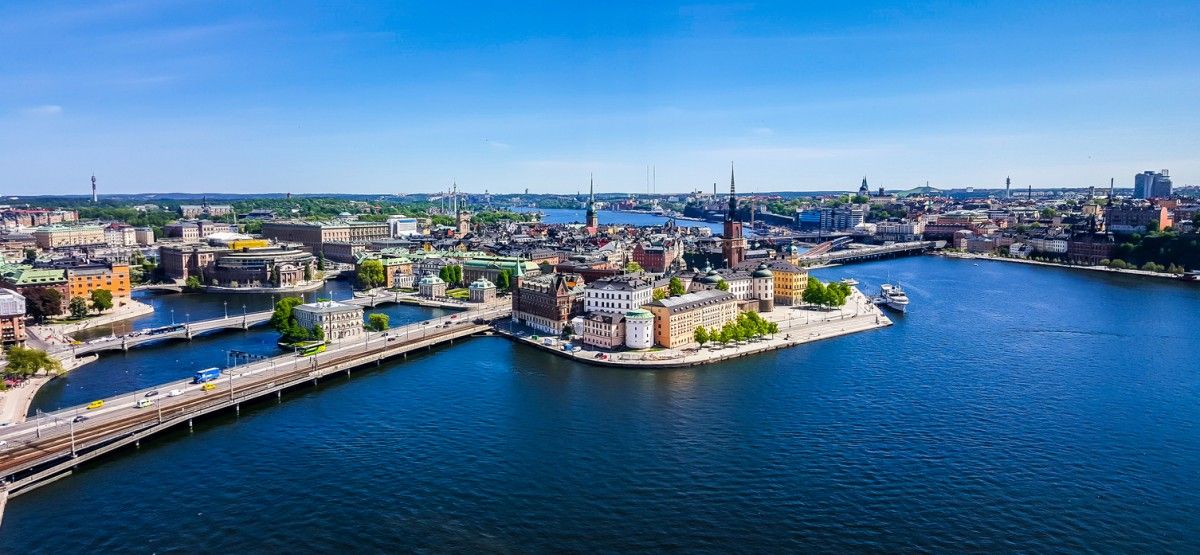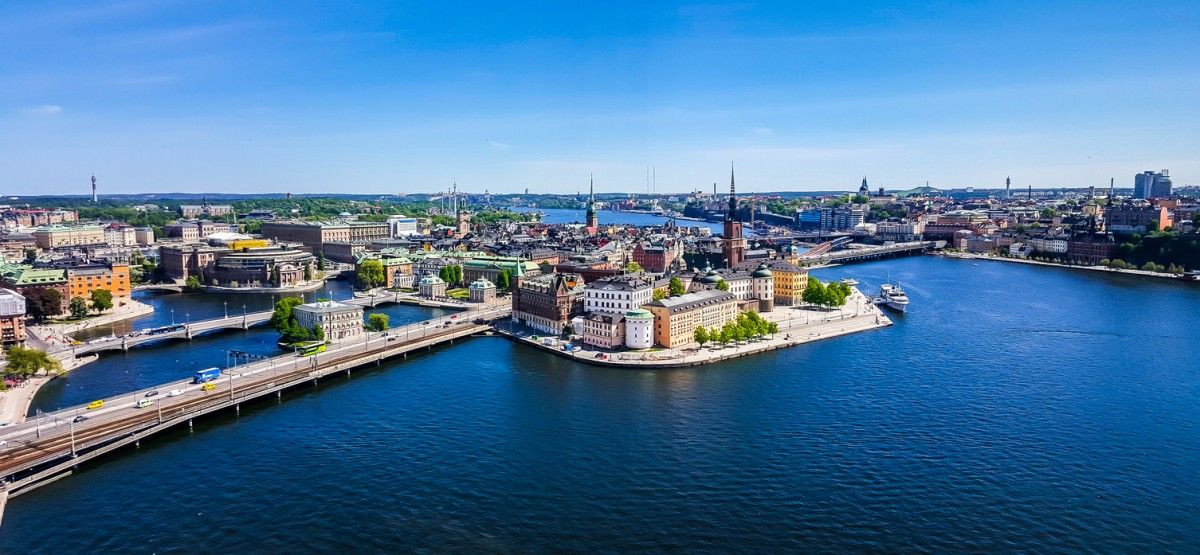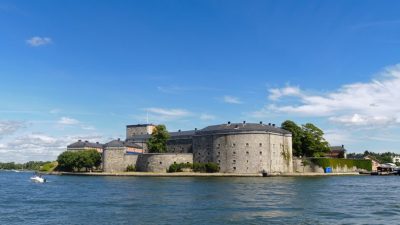 Stockholm Archipelago
Around Stockholm there are over 30,000 islands and islets,and you can easily reach many of the most beautiful by car. For example, drive to Vaxholm, the island that is considered the archipelago's capital and is no more than 30 to 40 minutes away from Stockholm. Just outside the center of Vaxholm lies the fortress vaxholms Kastell on a small islet, which today houses a museum, hotel and restaurant. Not so far from Vaxholm lies the rather large Värmdön, famous for its small places with art galleries, museums, and cultural events. At Värmdön you will also find several of the best restaurants in the Stockholm archipelago. After a stay here, you can stop by Saltsjöbaden. That place is famous for great spa hotels, good restaurants, small shops with handicrafts, and beautiful beaches.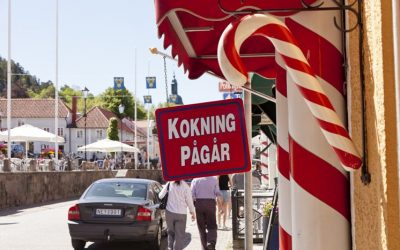 Vätternrundan
Vättern is Sweden's second largest lake after Vänern, and also one of the largest in Europe. Every year there is a bike race around Vättern, but the route has also become popular to drive by car in recent years. The distance around is about 300 kilometers. You drive past a number of cozy small towns and villages,and you'll find cottage rentals and campsites in many places along the lake's shores. Among the many experiences and sights you can catch at Vätternrundan is the zoo in Borås, the moose park in Skullaryd,the small candy factories in Gränna (here you can make your own polka pigs), the Lost City bathing park outside Örebro, and you can visit the island of Visingsö by ferry from Gränna. There are also several historic buildings and castles around Vättern, especially in the medieval town of Vadstena and in Örebro.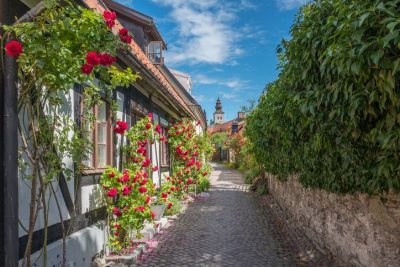 Gotland
Gotland is the largest island in Sweden,with approximately 59,000 inhabitants. About half of the people live in the beautiful and historic town of Visby. Visby is considered the best-looked after trading city in northern Europe, and was admitted to the UNESCO World Heritage List in 1995. The centre is dominated by buildings up to 800 years old, surrounded by a fortress wall, and with intimate and cobbled streets. The rest of Gotland is covered with farms and forests, with pleasant villages here and there. Here people travel to enjoy nature and the beautiful surroundings,cycling, hiking, fishing, swimming, attending festivals and to eat good food. Gotland is widely known for its many top-class restaurants. With car rental it is quite possible to explore the whole island in a few days, but most choose to spend more time on beautiful Gotland. You can either catch a flight to Visby, and pick up the rental car there, or take a ferry. The ferries depart from Oskarshamn north of Kalmar, and from Nynäshamn just south of Stockholm. The crossing takes about 3 hours.
See Sweden's big cities
One of the best road trips in Sweden is to drive between Stockholm, Gothenburg and Malmo. Admittedly, the trip from Stockholm to the other two cities takes about 6 hours, but the roads are very good and there are many opportunities to experience something unique on the trip. Between Malmo and Gothenburg, the driving time is about 4 hours, and the trip runs along Sweden's beautiful west coast. The contrasts between the cities are worth catching up with, and all three offer unique experiences and sights. In Stockholm, the castles, islands, canals, old town and the vibrant nightlife are the big drawcards. Gothenburg is more low-key and quiet,with a beautiful center and strong connection to the sea. Malmo is under full refurbishment, with new modern buildings, and a thriving outdoor and cultural life. It is also very short distance to Copenhagen from Malmo, if you want to experience even more of Scandinavia's major cities. One-way rentals are no problem in Sweden, and especially not when the car is returned in one of these cities.


Companies you can rent a car from in Sweden
In Sweden, it is mostly only the large and internationally known companies that offer car hire. Companies like Hertz, Europcar, Avis, Budget and Sixt can be found everywhere. Companies such as Alamo, National and Dollar are also well represented in Sweden. In the largest cities such as Stockholm, Gothenburg and Malmo there are local Swedish car rental companies, which often offer cars in niche categories, such as vans and luxury cars.
7 frequently asked questions about car hire in Sweden
What is the age limit for renting a car in Sweden?
Many car rental companies in Sweden accept that the driver and the tenant are 19 years old, but you will also find some that require you to be 21 years old. In all cases, you must have had your driver's license for at least 1 year. This applies to the most affordable categories of cars. Expensive cars can have an age limit as high as 30 years, and require the driver to have a driver's license for at least 2 years. If you are under the age of 25, you will normally be charged an additional fee for young drivers.
What credit cards are accepted when I rent a car in Sweden?
All credit cards from internationally recognized companies such as Visa, American Express, Mastercard and Eurocard are accepted in Sweden. If you are a Swedish citizen with a debit card from Swedish bank, any company will let you pay by debit card. However, anyone who rents a car must present a credit card that is in the same name as the tenant. This is because the car hire companies reserve a deposit to cover any deductible, fuel, fines and the like.
Can I drive the car to Norway, Finland and Sweden?
If you are allowed to cross borders with a rental car depends entirely on the country in question. If the country is within EU and EEA co-operation, which applies to all the Nordic countries, the answer is usually "yes". However, there may be restrictions in relation to the category of car you have rented (ask in advance), and some companies charge a small fee for crossing borders.
Is it safe to drive in Sweden?
Sweden is among the safest countries in the world to drive in. The roads are very good, and Swedish drivers are consistently skilled and friendly. You should still drive carefully and safely, both because the fines for traffic violations are high, and because there may be weather conditions in Sweden that require it. Please note that large animals (moose, deer, reindeer) may enter the road in the outskirts. Large animals can cause very serious accidents.
What type of car should I rent in Sweden?
Most people do just fine with regular rental cars in Sweden. There is also unlikely to be a need for four-wheel drive or SUC in winter. The country is not hilly, and it is rare with violent snow volumes on the roads. The exception may be if you are going to some of the most high-altitude ski destinations in the country in winter.
Is it common for toll booths in Sweden?
In Sweden, you don't have to pay tolls on highways and country roads. However, you have to pay on the bridges in Motala, Sundsvall, Svinesund and Øresund connection over to Denmark. There is also a fee to drive in the centre of Gothenburg and Stockholm during rush hour on weekdays. In Stockholm, the fee is 20 SEK to drive through the toll, while in Gothenburg it costs 18 SEK.
Who do I contact if I am involved in a car rental accident in Sweden?
The emergency number in Sweden for ambulance, fire service and police is 112. You should only call this if you have been involved in an accident in which there is personal injury, in the event of a fire, or in other serious cases and emergencies. You should then call the car hire company and/or insurance company you are using.
Second number:
Police – 114 14
Medical Assistance – 1177