Car rental Verona
Find the best price for car hire in Verona. Goautos.com compares prices from well-known car rental companies in Verona. Search now to see the best deals!
Verona guide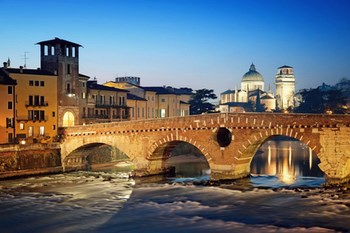 Verona is situated on the river Adige Veneto region in northern Italy, and has approximately 265,000 inhabitants (2011).The city is geographically located 25 km east of the southern tip of Lake Garda, and 110 km west of Venice.
Verona is an important cultural center and has many museums and art collections and a number of historical buildings and monuments. Around 3 million tourists visit the city annually. In addition, Verona is an important transport hub, the city is known for its artistic production of furniture and handicrafts industry. Verona is also known for its annual wine expo.
Verona is considered also to be the place where Shakespires "Romeo and Juliet" was set.
Cityscape in Verona dominated by the large amphitheater "Arena di Verona", famous for its annual opera performances.
In the historic center of Verona – which is a UNESCO World Heritage site – are a number of tourist attractions – including Verona Cathedral from the 1100s, the church "San Zeno Maggiore" from the 1100s with its famous bronze doors and portal sculpture, the church "San Fermo Maggiore" – built in the period 1100 to 1300 century castle "Castelvecchio" from the 1300s ( which today houses an art museum) and the Ponte Scaligero – which was also built in the 1300s.
In addition, the building "Palazzo Comunale" from the 1200s – with its 84 meter high tower "Torre Lamberti" – a popular attraction.
The city's international airport – Verona Airport – located 12 miles southwest of downtown.