Car rental Vilnius
Find the best price for car hire in Vilnius. Goautos.com compares prices from well-known car rental companies in Vilnius. Search now to see the best deals!
Vilnius guide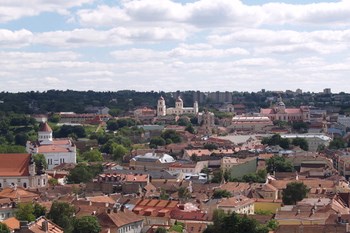 Vilnius is the capital of Lithuania, is located southeast of the country, on both sides of the river Neris.The city, which has 560,000 inhabitants (2010), otherwise both an important transport hub and a major industrial center. Here are several of the country's most important institutions – including a university that was founded back in 1579.
Vilnius' history dates back to the 900s, and in 1323 the city was the capital of Lithuania.Later, the city has changed "owners" many times. It has been Polish, Russian, German and Soviet – until after the Iron Curtain in 1991 was again Lithuanian capital.
Vilnius has a lot of beautiful architecture to show off – in various styles. The historic city center – consisting of the 1500 listed buildings –   is a UNESCO World Heritage Site, and in 2009 the Vilnius also "European Capital of Culture".Just outside the city extends a small part of the Struve Geodetic Arc, which is also a UNESCO World Heritage Site.
Among the historical attractions we find such Ruins of Gediminas Castle, located at Castle Mountain in the middle of town. Port Tower Ostra Brama is a remnant of Vilnius' old fortifications. Otherwise the Neoclassical St. Stanislav's Cathedral (1777-1801) and the late Gothic church St. Anna and St. Bernadin mentioned. Other attractions include Gediminas Castle and the Cathedral Square, which symbolizes the capital.
Of more recent attractions have so far the only known sculpture of rock legend Frank Zappa mentioned. It is made by the Lithuanian sculptor Konstantin Bogdan, and was unveiled in the center of Vilnius in 1995.
There is otherwise a number of theaters and other cultural institutions in Vilnius, including The Lithuanian Opera and Ballet, The Academic Theatre, State Youth Theatre, The Russian Theatre, Lithuanian folk theater and Keistuoliu theater. Opera in Vilnius can trace its history back to 1636. Vilinius also offers many interesting museums. Among these is the Lithuanian national museum (founded in 1855) and the newly opened Guggenheim Eremitage Museum, where one can experience many unique artwork.
Today Vilnius is also a modern city, known for its hospitality and a wealth of restaurants and nightspots. Slightly off center is one of the largest shopping centers in Northern Europe.
The nearest airport is Vilnius International Airport, located 7 km south of the city.