Car rental Wrocław
Find the best price for car hire in Wrocław. Goautos.com compares prices from well-known car rental companies in Wrocław. Search now to see the best deals!
Wrocław guide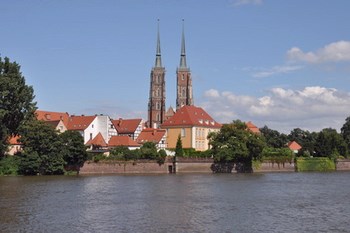 Wrocław (German: Breslau) is located in Poland's southwest corner – and has approx. 633,000 inhabitants (2010). Oder river divides the city in two, and has been throughout history Wroclaw's main artery, and also made the city an important central European river port. In the year 2000, Wrocław celebrate its 1000th anniversary.
Wroclaw is one of Poland's most important industrial cities – including large production of cars, buses and rail cars.Among the major industrial groups that have established themselves in Wrocław, Siemens and Volvo. Otherwise, the city is known for its colleges and universities, including Wrocław University – established in 1702.
Like most other Polish cities were heavily damaged during the Wrocław 2 World – especially in war tether. Several of the great historic buildings are rebuilt (which copies of the old) in the postwar period. This includes the Cathedral of the 1100s. However, there are few historical buildings that were spared during the bombings, including the beautiful St. Idzis Church from 1230 – which is now Wroclaw oldest surviving buildings. An attraction in itself is the Church Island – originally an island in the Oder which is now connected to the mainland. In addition to the cathedral we find such the city's botanical garden here (built in 1811).
On the south bank of the Oder is Wrocław old ramparts, and within these there are several preserved – and part restored – medieval buildings. Moreover, we find the old market here – in addition to the rebuilt Elisabeth church with its 83 m high tower. On the ramparts can otherwise experience the special vision of the historical painting Panorama Raclawicka – originally painted in the city of Lviv in 1894, but moved to Wrocław in 1945. It forms a circle with a circumference of as much as 120 meters, and represent an important historical event.
Popular tourist attractions are the National Museum else – such as have a great collection of medieval art and architecture museum – with a department that shows the reconstruction after the war.
The nearest airport is Copernicus Wrocław Airport, located about 10 km southeast of the city.