Car rental Arezzo
Find the best price for car hire in Arezzo. Goautos.com compares prices from well-known car rental companies in Arezzo. Search now to see the best deals!
Arezzo guide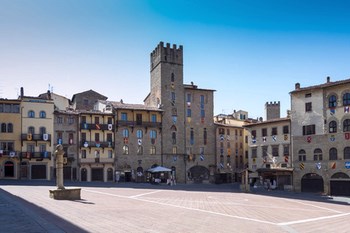 Arezzo is located in the Italian countryside of Tuscany, specifically in the Arno Valley – approx. 60 km southeast of Florence.The city has approx. 100,000 inhabitants (2010) – and the industry is characterized by a number of industrial activities, particularly in ceramics and jewellery production.
Arrezzo was founded by the Romans, and had originally named Arretium. The city experienced a flowering period of the Middle Ages, and there are still remnants of the great medieval architecture in the city.
Among the main attractions are the old city walls and the Gothic cathedral from 1277. The church houses including shrine to the famous Pope Gregory 10th Another beautiful church of Santa Maria della Pieve. It was built in the early 1100's and is the oldest. It is considered one of the most beautiful Romanesque buildings throughout Tuscany, and is therefore a very popular destination.
Several famous medieval artists were born in Arrezo – including sonettedikteren Petrarca and painter Giorgio Vasari. The childhood home of the latter, Casa di Vasari, is preserved – and is now the most famous museum.
The nearest airport is Siena Ampugnano Airport, ca. 90 km west of Arezzo.