Car rental Boston
Find the best price for car hire in Boston. Goautos.com compares prices from well-known car rental companies in Boston. Search now to see the best deals!
Boston guide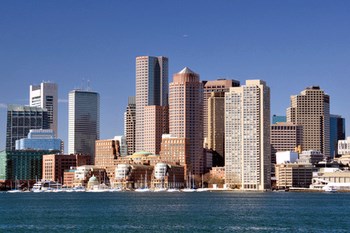 The port city of Boston is located in the northeast U.S. the Atlantic Ocean, and is the capital of the state of Massachusetts.The city has about 618,000 inhabitants (2011).
Boston is one of the oldest and most prestigious in the United States, and the economy is based on education, healthcare, financial services and high technology. Several famous universities located in Boston, and a little off center hosts the prestigious Harvard University.
Boston has a temperate climate with hot, humid summers and cold – often windy – winters.
The city has a rich cultural scene, and is home to the world famous "Boston Symphony Orchestra". Cityscape carries mostly characterized by high-rise buildings and skyscrapers, but in the historic center – are still narrow streets and a number of older buildings.
Boston is a popular tourist destination and receives over 16 million visitors annually. Some of the most visited attractions in the city include building "Faneuil Hall" from 1742, the church "Christ Church" from 1723 and the JFK Memorial Museum & Library – museum dedicated to John F. Kennedy. The exhibitions here tells about his life and work.
"Museum of Fine Arts" also recommended a visit. It has over 450,000 works of art and is one of the country's museums. Why not try see sculptures and jewelry from the ancient Egypt and paintings by Gauguin, Manet, Renoir, Degas and Cézanne.
An attraction for the whole family "Museum of Science" – with interactive exhibits in science and engineering. There is also a popular butterfly garden and an IMAX theater.
Boston has otherwise an aquarium with seals and penguins – which is also a popular destination for families.
Boston Logan International Airport is located 6 km northeast of the city.